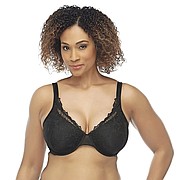 By JEFFARAH GIBSON
Tribune Features Writer
jgibson@tribunemedia.net
It's a fact that many Bahamian women do not know their correct bra or panty sizes. Some wear undergarments that are either too small, too big, or just ill-fitting.
It is crucial for women to know their right size as it helps with choosing the proper underclothes that will provide a smooth foundation for their clothing and create flattering silhouettes.
Yolanda Gray, manager of Lorene's Intimates in the Harbour Bay Shopping Plaza, told Tribune Woman that many shoppers come to the store looking to add new pieces of lingerie to their wardrobe but oftentimes do not know their size.
"There are many women that wear the wrong size bra and panty size. When you wear the wrong bra it does not look right. So what we find is that a lot of people are guessing. But one rule of thumb when it comes to knowing when to get yourself measured is if you have gained or loss weight. That is always a good indication," she said.
When it comes to selecting one's undies there are variety of different styles, colours, cuts and shapes to consider.
Ms Gray, along with Asha Miller, manager of Lorene's Palmdale location, shared some tips on the essential underwear items every woman should have in her closet.
Supportive underwear
According to Ms Gray, all women should own supportive underwear in the colours black and nude.
"Supportive underwear is just that supportive. It gives you a nice smooth finish. It smooths out the imperfections. So a mid-waist panty is one of those that can do that," she said.
High-waist girdle with legs
Another essential supportive underwear is the high-waist girdle with legs that can be worn with just about anything, from skirts and dresses to pants, said Ms Miller.
"If you are a woman who has tummy you don't want to get a panty that stops at mid-waist. You would need a high-waist one and one with legs. If you are wearing a clingy dress, it will keep everything in place so that when you are walking you can just glide," she said.
The all-in-one with bra
"This all-in-one bra is for those who don't want to wear two pieces – a bra and a panty," said Ms Gray.
This item, she explained, acts as a bra, panties, as well smoothing and forming shape wear. "It can also be used strapless and worn with strapless top and dresses. I would say that this is another basic women should have because it can be worn with just about everything."
Fitted slip dresses/camisoles
With sheer fabrics being extremely popular these days, slips are great for underneath if you don't want to put all your business out there.
"Many women wear sheer and flowing tops and sometimes their bra shows. So the slips are essential because they do not give that see-through effect," said Ms Gray.
Sexy lingerie
When it comes to the sexier lingerie items, Ms Miller believes every woman should own as many pieces as she can.
"They should be worn as much as you want. It shouldn't only be worn on a special occasion like a date night, anniversary, but as often as you can," she said. "There is a great variety of lingerie, but some of the popular ones are sheer, lace, corsets, lingerie dresses and anything that is sexy."
And for those who fancy something out of the ordinary, lingerie costumes are an option, "in the event you want to look like a nurse or a police woman for the night," she added.