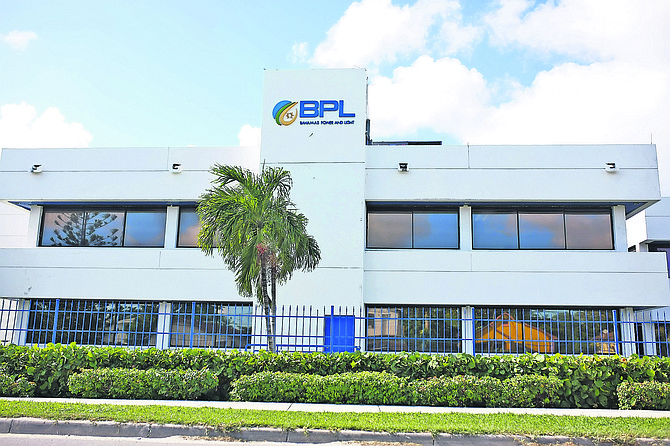 By NEIL HARTNELL
Tribune Business Editor
nhartnell@tribunemedia.net
Bahamas Power & Light's (BPL) Board split was sparked by disputes over generation technology for the new, low-cost power plant and executive appointments, Tribune Business can reveal.
The increasingly bitter row, which led to the former Board's dissolution after it fractured into two factions, pitted former chairman, Darnell Osborne, and fellow directors Nicola Thompson and Nick Dean, against chief executive Whitney Heastie and ex-vice chairman, Patrick Rollins.
While the latter two were backed by Desmond Bannister, the minister of works who has responsibility for BPL, Mrs Osborne and her group found an ally in the energy monopoly's two unions - the Bahamas Electrical Workers Union (BEWU) and Bahamas Electrical Utility Managerial Union (BEUMU).
All parties to the dispute have danced around the real reasons for the debacle, but Tribune Business can disclose that Mrs Osborne was infuriated by Mr Bannister's decision to appoint Mr Rollins as an executive director.
Mr Bannister, in explaining the move to Tribune Business in late July, said: "We thought the new chief executive needed some assistance in certain areas, and guidance from somebody with the kind of expertise Mr Rollins has. Mr Rollins is an engineer by training, and former fraud control manager at BTC.
"He was the most appropriate person, and someone we have tremendous confidence in for critical control areas that are very important to BPL, particularly now." Mr Rollins remains on the BPL Board as vice-chair.
But Mrs Osborne is understood to have viewed the move, which gave BPL's vice-chairman a role in the utility's management, as a snub and attempt by the Minister to undermine her authority as chairman.
This was brought home to Tribune Business when it asked her about Mr Rollins' new role. Mrs Osborne responded tersely that the appointment was neither the decision of herself nor the Board, and that this newspaper needed to contact Mr Bannister about the matter.
Mrs Osborne and her former Board allies, in their weekend statement, were likely referring to Mr Rollins' appointment and Mr Bannister's involvement when they said "interference by the political directorate in a board whose very existence was chartered to be devoid of such activities" lay at the root of the dispute.
The Boardroom rift then deepened, and hit the point of no return, while threatening to undermine and derail the prospect of lower cost, more reliable energy for New Providence residents and businesses from the proposed new power plant.
While Shell North America was selected as the preferred bidder to construct, own and operate a 270 Mega Watt (MW) multi-fuel plant at Clifton Pier, negotiations with BPL to formalise commercial terms via a Memorandum of Understanding (MoU) and Power Purchase Agreement (PPA) became embroiled in the Board battle.
The infighting escalated over the selection of generation technology for the proposed new power plant, Tribune Business can reveal, and whether it should be Shell or BPL who had responsibility for this.
This newspaper understands that while one Board faction was vehemently opposed to General Electric (GE) supplying the turbines for the Shell plant, and favoured either Wartsila/Burmeister (BWSC) and MAN Diesel, its rival took the opposing view.
Tribune Business previously revealed that GE, the leading multinational and electricity turbine manufacturer, was complaining that it "cannot get a fair hearing" and was being shut-out of the process to supply both the new Clifton plant and short-term generation.
It is understood that GE has taken its complaints as high as the Trump administration's US State Department, having offered to provide 80 MW of short-term generation to BPL to "bridge the gap" between now and when the new Shell power plant comes on stream.
Tribune Business can reveal that GE and its Bahamian partner, Providence Energy Partners, an affiliate of the same-name investment bank headed by Kenwood Kerr, touted their offer as saving BPL and its customers around $75m per annum through reduced fuel costs alone.
And, to sweeten the pot, GE offered a $110m funding facility to upgrade BPL's transmission and distribution infrastructure. But Mr Heastie, in an interview with Tribune Business last month, dismissed the GE short-term offer as "making no economic sense" because the narrow three-year timeline to the new power plant's completion made it impossible to generate a viable investment return.
He also suggested that GE's aeroderivative gas turbine engines do not work well in hot and humid environments such as the Bahamas - a charge GE is known to vehemently dispute, and it has provided evidence to refute Mr Heastie's position.
The Board dispute also resulted in the leaking of material, such as the Bahamas Chamber of Commerce and unions' letters, as one faction sought to undermine the other by calling into question the process used to select Shell as the preferred bidder.
Messrs Bannister and Heastie have said a review by Ernst & Young (EY), the accountants, largely gave the process a clean bill of health, but its contents have yet to be revealed publicly as a process designed to lower the long-standing energy burden borne by the Bahamian people became caught in the crossfire.
Mrs Osborne's group also received backing from BPL's two unions, which were unhappy with Mr Heastie's efforts to transform the utility's management and culture by bringing in outsiders as consultants and managers. They also criticised some appointments for having connections to Sancon Consulting, the entity that advised on the process that ultimately selected Shell.
"For the record, the union have no problem with Darnell Osborne becoming chairman again because she has proven to us that her heart is for the employees of BPL and the public," one BEWU executive told Tribune Business.
"She really wanted to make electricity more affordable and reliable for the Bahamas, but was met with a lot of resistance from others at her level. Asking the Board to resign was a good thing because the in-house fighting was affecting all staff and had employee morale very low at BPL.