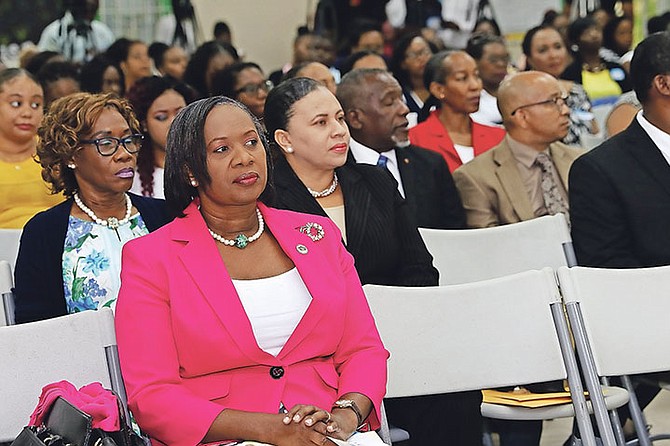 By MORGAN ADDERLEY
Tribune Staff Reporter
madderley@tribunemedia.net
Bahamas Union of Teachers President Belinda Wilson yesterday called on the Ministry of Education to consult and collaborate with the union more while also encouraging new teachers to join the BUT.
Mrs Wilson's appeal came at yesterday's orientation exercise for newly appointed teachers where Education Minister Jeff Lloyd had been due to speak but was absent as he was on a cabinet tour of the Grand Lucayan in Grand Bahama. Permanent Secretary Lorraine Armbrister delivered remarks in his place.
"In the minister's absence, PS, I'm going to give you the charge," Mrs Wilson said.
"I urge you and your team, in this 2018-2019 school year to truly understand the whole picture… because in so doing you will eradicate the status quo. It cannot be business as usual.
"You have changed the modus operandi, the mode of operating in an outdated ministry and department of education. Ma'am, you must demand accountability from educational leaders at all levels.
"If education is to succeed, then year after year we cannot accept the lame excuses that the public service is a bureaucracy.
"Productivity cannot be expected only from teachers, but from all of us. Therefore, it is imperative that we work together, that the union is consulted, that we collaborate and that we ensure that schools are healthy, safe learning environments."
Mrs Wilson called for innovative training and professional development opportunities, noting: "We expect teachers to be creative so our leaders must assist us with that."
She also said the curriculum must be transformed to "guarantee" all students, with varying abilities, are able to "master basic education".
Noting the Bahamas is spread over 90,000 square miles of water, Mrs Wilson pondered if Bahamian students are being prepared to understand the blue economy.
"Are we preparing them for careers in the maritime area? When are we going to produce our first naval architect to design one of the watercraft for the Royal Bahamas Defence Force?
"What about our green economy? Is our system ready to produce maybe the first clean car mechanic in the Bahamas so that they will be able to repair the hybrids and the electrical cars? Think on these things.
"Therefore, ma'am, I impress upon you the urgency of the administrative department of education to acknowledge that change is a part of understanding the whole picture."
Addressing the new teachers, Mrs Wilson said they have started their careers "at a time when teachers are being required to produce more with less" and have to face an "astronomical" demand.
She added teachers have to contend with social ills such as unemployment, an increase in value added tax, and issues with Bahamas Power and Light, "a power company that is challenged to provide adequate power."
In this vein, Mrs Wilson said: "You have the right to join the union today. Don't let anyone tell you anything different.
"You have the right to be free from intimidation and victimisation. You have the right to attend union meetings… You have the right to due process. You have the right to stand with your union."
Mrs Wilson also said teachers are encouraged by dedicated students.

"But what encourages us is when students like the head boy, who is also the valedictorian of Doris Johnson Senior High, Johnson Davilma, who against all odds was able to achieve a cumulative GPA of 3.76," she said.
Earlier this month, The Tribune reported how Johnson, 17, was able to beat the odds of a poverty-stricken upbringing to become a star student. Johnson has been accepted into multiple American tertiary institutions, including Florida Memorial University, Fisk University, and Philander Smith College, and been offered partial scholarships to two of these schools.
However, in order to make his dream a reality, Johnson requires additional funding.
Unfortunately, his status as the child of Haitian immigrants means that he does not meet the criteria for receiving Bahamian government scholarships. And as a 17-year-old, he is a full year too young to apply for Bahamian citizenship.