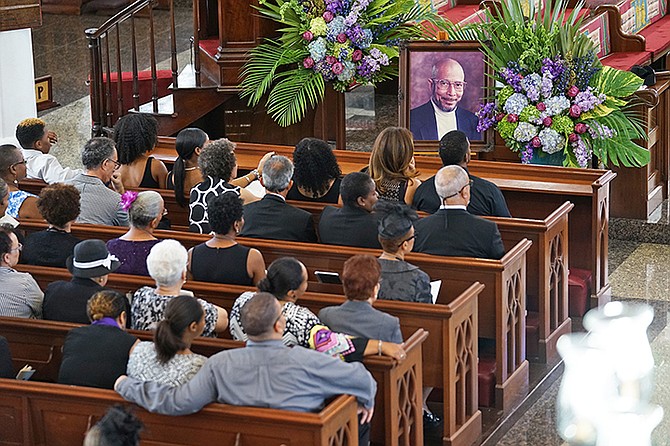 By FARRAH JOHNSON
PLAYWRIGHT and poet James Catalyn was remembered yesterday as an icon who contributed significantly to the development of Bahamian arts and culture.
Government officials, former colleagues, friends and family paid their last respects to the former actor at his funeral at Christ Church Cathedral.
Among those attending were Official Opposition Leader Philip "Brave" Davis, Progressive Liberal Party chairman, Senator Fred Mitchell, and members of his acting group James Catalyn and Friends (JCF).
By his own request, no obituary or tributes were read in his honour.
In fact, in his poem entitled 'This My Day' printed in his funeral programme, Catalyn explicitly stated that guests who attended his funeral should "expect no dignitaries block" or any "acknowledgements," because they "bore".
He also wrote: "Weep not! Speak not! Make no demands. There's only one star today. No concert, circus, I made my plans, to have my funeral, my way!"
Speaking to The Tribune outside the service, Mr Davis said Mr Catalyn was passionate about his country and his people, and was an "icon" due to his many contributions in the cultural world.
He added Mr Catalyn also will be missed for his "biting wit," and said that he himself is uncertain as to who will be the next person to fill the playwright's shoes.
"I trust that we who have come to know him will come to love him and appreciate his work (and) we'll continue the memories that he has left with us," he said.
Adding his thoughts, Mr Mitchell described Catalyn as a "great talent, good friend and true patriot".
"I believe he's going to be missed from the scene but fortunately what is left behind is a body of work which supports his love of country," the senator said.
"And I'm really pleased to be able to spend these few minutes remembering him, and may he rest in peace."
Leslie Ellis-Tynes, a member of JCF, said a lot of people did not get to know Catalyn in the same capacity as the group did, adding he will be "sorely missed".
"It's just a really sad time because the entire JCF family is here… not only was he a performer, actor, director, poet, writer, but he was a father to everyone (in JCF)," she said.
Reflecting on Catalyn's legacy, another JCF member, Valicia Rolle, said: "He was a great man, always friendly, always welcoming, loved to tell stories about Bahamian culture and the way that we used to be, and if you ever had a question he would gladly answer it."
Lady Camille Barnett, University of The Bahamas professor and president of The Bahamas AIDS Foundation, also described Catalyn as an " absolute treasure".
"James will be sadly missed… he was an icon certainly in the area of theatre, and in terms of the support that he provided for the fight against HIV/AIDS," she said.
One of Catalyn's former students, Stephanie Rolle, told The Tribune about the time he went to Bimini in the late '60's, searching for a cast to perform in a fundraiser play for Holy Name Catholic School.
She said she remembered Catalyn as an "open guy" that was "very friendly".
"The fundraiser that he did was very supportive to our school because right now, where the school didn't have any funds, it is closed. But we always had persons like Mr Catalyn who supported it," she said.
Catalyn, a Bahamian theatre legend, died on Saturday at the age of 78. His cremation has already taken place, but a private interment for family and friends will be held at a later date.