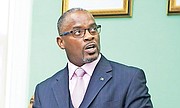 By DENISE MAYCOCK
Tribune Freeport Reporter
dmaycock@tribunemedia.net
THE government's purchase of the Grand Lucayan resort will certainly boost economic activity on Grand Bahama with local MP Iram Lewis encouraging residents to be prepared not just as job seekers, but as entrepreneurs to service the property.

Grand Bahamians, he said, should not to simply wait on jobs at the hotels, but consider opening their own businesses to take advantage of spin-off opportunities that would be available when the hotel reopens.
"Let's get prepared to go beyond getting a job and create opportunities for yourselves…and start our own businesses," said the Central Grand Bahama MP.
Mr Lewis stressed there would be additional services the hotel will require from local businesses.

Although there has been some public criticism about the government's decision, many residents on Grand Bahama support it as the island has been struggling since October 2016 when the resort closed its doors following hurricane damage. Mr Lewis said people should look at starting tour and souvenir businesses and that local businesses such as restaurants and bars should upgrade, and fishermen and farmers should step up their game.


The MP believes the hotel purchase by the government is a 'win, win' situation.
"Grand Bahama needs this injection. I don't see why anybody would not want this to take place, because it cannot hurt GB. The money will be invested on the island, and there will be a trickle-down effect," he said.
Mr Lewis believes people must be willing to open businesses and partner with the hotel.
"The Bahamas government is not saying they are going to be in the hotel business forever, but they realise GB needs to be rescued," he said.
He noted it would not be a good thing to allow what happened to Royal Oasis, which closed down and fell into a state of disrepair more than 12 years ago.
When asked about the closed Royal Oasis property near the International Bazaar, Mr Lewis said that some offers are on the table regarding the property.

"There are offers on the table, but I don't want to speak out of turn. Harcourt, they are a motivated seller right now, and they are looking to partner, and they are motivated," he said.

The MP suggested Bahamasair could be a major role in the success of Grand Lucayan resort and possibly turn a profit in the process.
"Why can't Bahamasair become the direct shuttle to feed the hotel rooms? We take on the same model as the Princess. The domestic routes that (the airline) is operating give it up. Western Air and Southern Air, Sky Bahamas are doing pretty good. Let them deal with the domestic routes and let Bahamasair become the junket that brings these people to GB by picking international routes from Atlanta, Chicago, Houston, New York and LA.
"Bahamasair has not made a profit, but it has a safety record and a good operational record. If we bring the airline into the mix with the resort, perhaps it may be the first time it turns a profit," Mr Lewis stated.

On the topic of taxes, the MP for Central Grand Bahama said with the exception of value added tax, Grand Bahamians need a tax break.
"There needs to be a three to five-year tax relief programme implemented in Grand Bahama. We need to take a fresh look at Grand Bahama and its current taxation method and cost of living and give the Grand Bahamians people a break," he said.
"When we look at Freeport, we need to look beyond the east-west incentives for those same incentives to be given to the east and southern shores, such as Hunters, Lewis Yard, and Smith's Point, and the western side of Eight Mile Rock to West End. So I am encouraging those sort of same incentives to take place outside of Freeport."
The MP believes high airport taxes are hindering airlift to the island.
"With respect to other taxes, we have issues with airlift and issues with landing fees, and that is why (flights) are so scarce. That is why I say the Grand Bahama Port Authority needs to partner with government wherever they can offer additional incentives so we can get people on the island," said Mr Lewis.

When asked about VAT, Mr Lewis said: "I am not talking about VAT. VAT is what it is. No one love tax, people see it as punishment, but it is not, it is an effort to rescue and stabilise the country. We know we are all a part of what is happening and collectively we are in crisis as a nation."