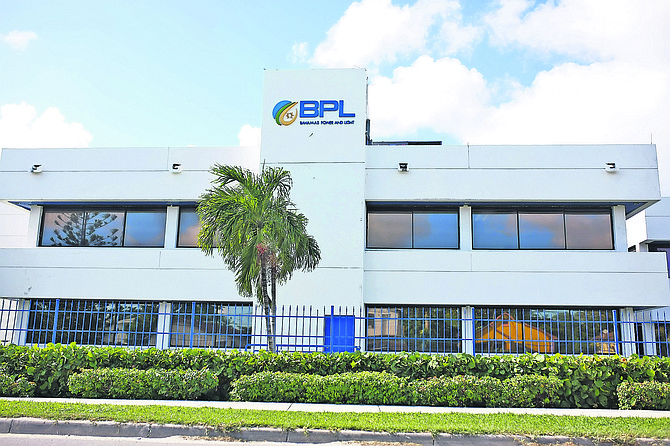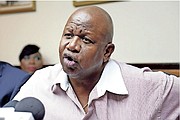 By RICARDO WELLS
Tribune Staff Reporter
rwells@tribunemedia.net
BAHAMAS Electrical Workers Union president Paul Maynard said yesterday while he never intended for a letter he wrote to Bahamas Power & Light's CEO Whitney Heastie to become public, he stands by "every word" written.
Mr Maynard was referring to a letter he sent to Mr Heastie earlier this month, addressing the latter's mode of discipline for employees, his refusal to re-engage staff terminated for drug use and the alleged suspected monitoring of staff calls and emails by BPL personnel.
In an interview with The Tribune yesterday, Mr Maynard said while he had no idea how the letter became public, its current status does not change the importance of what was written.
"The issues are known and we have spoken privately on them," he told The Tribune. "I don't know how it got out there, maybe someone who I sent it to looked at it and then sent it around – I don't know because everyone knows I don't get down like that."
"But regardless, these are matters we have been going at and matters we want resolved."
The letter, which was circulated by social media over the weekend, opens with Mr Maynard taking Mr Heastie to task over his demeanour and tone in a meeting he had with a technician at the state-owned energy company.
Mr Maynard in his letter written on August 21, noted the outcome of that meeting "disturbed" him, claiming Mr Heastie's treatment of the technician left the 30 plus year employee "traumatised".
Mr Maynard wrote: "(He told me) he was in fear of his job and you talked to him worse than a dog, in addition to demoralising him.
"This, Mr Heastie, is absolutely unacceptable and will not be tolerated while I'm the president of the union. Employees told me that you were shouting and banging your hands on the desk while dressing down (the technician)."
Mr Maynard further claimed in his letter: "Mr Heastie I need to remind you that this is BPL, a unionised company, not Freeport Power where you all had the union intimidated and you did what you wanted to the staff at will. I will not stand for it and let this serve as your first and very last warning."
Mr Maynard warned if a similar incident were to transpire in the future, "it won't be pleasant for you as CEO, believe me."
"You will not intimidate me," he wrote. "There is a procedure that is set out in the contract when you want to reprimand an employee. I strongly recommend that you apologise in writing to him."
A second concern addressed were the actions of an IT official, whom Mr Maynard said he understood had been "talking to the staff in a very derogatory fashion." Mr Maynard also said it was suspected someone at BPL was allegedly monitoring staff calls and emails.
Addressing Mr Heastie yet again, Mr Maynard asserted the CEO needed to inform the official that these actions were viewed as "absolutely unacceptable," and will not be tolerated.
Mr Maynard continued: "In addition, as concerns (this employee), staff are uneasy because they have very strong suspicions that the company's email and phone systems are being monitored by him."
Mr Maynard insisted he was going to speak with Anthony Christie, president of the manager's union, to verify whether his group had similar concerns.
"There seems to be mistrust with you and your consultants when it comes to BPL staff," he wrote. "I'll have you know that we are professionals at this company and know how to do our jobs."
The final concern Mr Maynard addressed had to do with disputes over several employees fired over failed drug tests.
The BEWU president claimed Mr Heastie only rehired one employee, but opted not to re-engage nine others on the basis of personal preference.
"Well I'm demanding that the nine workers who were fired as a result of failing the marijuana drug urine test be returned to work with immediate effect," Mr Maynard wrote.
"I reasoned then that you fired them contrary to the long-established drug policy that was in place, I then made an agreement with the government to have them returned to work and you ignored the minister of works and the minister of labour's request," he claimed.
Mr Maynard wrote there could not be one policy for the "low workers" and another for the "elite" employees.
"Mr Heastie if things are going to improve for the better at BPL, there is going to have to be an immediate shift in your attitude toward Mr Christie and myself, you have to come to the realisation that this is a unionised workplace and we will be respected or you're in for a very hard ride where you will get absolutely nothing done and we will be in the press everyday complaining about you," he also wrote. "The choice, sir, is yours to make."
When contacted on the matter yesterday, Mr Heastie said he was aware the letter had been made public, but refused to address anything contained in the document.
He told The Tribune: "I do not address internal matters publicly."
This comes less than two weeks after the dissolution of one BPL board and swift appointment of another due to several issues of contention.
The resultant chaos prompted Prime Minister Dr Hubert Minnis to announce last Wednesday he has ordered a "proper investigation" into the problems.