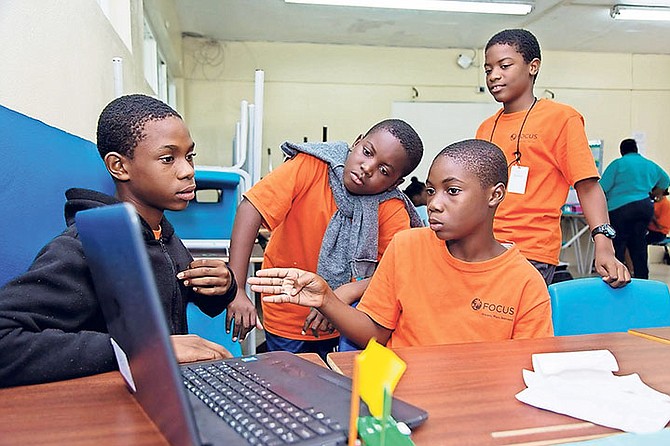 THE eighth Summer SLAM, FOCUS - a programme of the Lyford Cay Foundations - engaged 169 students this summer in grades five to nine in creating solutions aimed at building a better Bahamas.
Summer SLAM took place from June 22 - August 3 on the campus of University of The Bahamas.
College readiness and access are at the core of this tuition-free programme that selects 36 students in grade four each year for a rigorous and exciting eight-year journey to prepare them for college. FOCUS students commit to pursuing their education dreams by attending FOCUS on 15 Saturdays every school year and for a full 30 days of Summer SLAM. The intense summer programming proved to be a time of growth and learning for both students and their dedicated teaching interns, who consist mainly of education majors from University of The Bahamas.
While the arts, sports, field trips and other holistic learning activities are incorporated into Summer SLAM, summer learning truly comes alive for FOCUS students through project-based learning hinged on driving questions.
Programme coordinator for grades five to nine, Tiffany Bain-Saunders believes that project-based learning is what sets FOCUS apart from other experiences.
"In Summer SLAM, students have the opportunity to take the lead and actively participate in their own learning process while solving real-world problems," she said. "The projects are not just student-centred but student-driven."
Cherise Walker, mother of FOCUS Class of 2023 student Cherish Walker, a rising 8th grader at S C McPherson Junior High, credits FOCUS with helping her daughter to dream.
"Every year since Cherish was in grade four, she's been excited about FOCUS and always wondering what there is to learn next. Whether it's learning about global warming and the environment or learning about transportation like she is now, she just gets excited," Ms Walker said.
"I find that FOCUS keeps her motivated in school. She dreams of dancing and because of FOCUS she talks about attending Julliard for college."
In addition to students in grades five to nine, 84 students in grades 10-12 also continued with On Course to College, the second phase of FOCUS which transitions from project based learning to more individualised summer learning experiences such as volunteer leadership and work experiences.