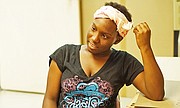 By AVA TURNQUEST
Tribune Chief Reporter
aturnquest@tribunemedia.net
IMMIGRATION Minister Brent Symonette yesterday denied recent reports identifying a sick teen as stateless, insisting people born in the country to Haitian parentage were entitled to register as Haitian citizens.
"They are not stateless," he told reporters outside of Cabinet.
"Don't muddy the water with second and third generation. A lot of times that doesn't apply. So we have to be very careful when we use the word stateless because it has a very defined meaning."
According to the Haitian constitution (Article 11), "any person born of a Haitian father or Haitian mother who are themselves native-born Haitians and have never renounced their nationality possesses Haitian nationality at the time of birth."
However, it is under dispute whether the entitlement is extended to second or third generation descendants whose parents were not themselves native-born Haitians.
In an interview with The Tribune, a representative from the United Nation's Refugee Agency, UNHCR, explained that the nationality a person is "entitled to" does not affect their status as stateless.
"It's also important to understand the question of whether or not a person is stateless, is not forward looking, or backward looking," said Deneisha Moss-Balboni, UNHCR assistant protection officer.
"It is a question that must be answered in the present. So the question is - what nationality does the person currently hold? Not what nationality they held. Or what nationality they are entitled to. If no country considers the individual a national, the person is stateless."
The Tribune contacted Mrs Moss-Balboni earlier this month for clarity on statelessness in its reporting on the plight of sick teenager Taranique Thurston, who has been unable to travel outside the country for medical treatment due to her lack of status.
Taranique's mother was naturalised as a Bahamian citizen after Taranique was born. Her father is Bahamian. Her parents are not married to each other.
She was issued a certificate of identity by The Bahamas government, listing her as a Haitian national earlier this month.
However, her mother Ginette Caty - who was reportedly born in The Bahamas to a Mexican mother and Haitian father - told The Tribune previous attempts to register her daughter as a Haitian citizen had been unsuccessful.
Mrs Moss-Balboni spoke generally about the issue of statelessness in The Bahamas, telling The Tribune the agency did not have enough details about the government's classification of children of Haitian descent.
However, she noted the agency was aware of some of the prevalent issues including a lack of documentation and gaps in Bahamian citizenship laws, which may increase the risk of statelessness.
"Insofar as the nationality laws in The Bahamas," Mrs Balboni-Moss said, "I believe it is clear how Bahamian citizenship is acquired. However it must be noted that there are a number of gaps in Bahamian citizenship laws that can give rise to statelessness, specifically arising due to gender discrimination in the citizenship provisions."
She continued: "For example, Bahamian men do not automatically confer nationality on their children born in The Bahamas, if the child is born out of wedlock. So, unless the mother of the child is Bahamian, the child will not automatically acquire Bahamian citizenship at birth.
"This is problematic because now the child is entirely dependent on acquiring nationality from his/her non-Bahamian mother, which may not be possible. The mother in this scenario may also face restrictions on conferring her nationality, or the mother herself may be stateless.
Mrs Balboni-Moss added: "This is why UNHCR urges states to ensure their laws do not create situations of statelessness, and why UNHCR urges states to implement safeguards to prevent against statelessness."
Yesterday, Mr Symonette stressed reporters contact the Haitian Embassy to get "the other side of the story".
However, the embassy had not previously responded to information requests placed by The Tribune over several months.
Yesterday, the Haitian Embassy replied to an email request sent earlier this month, stating: "The embassy acknowledges your email requesting an interview in reference to the matters impacting Haitian migrants and their children. The embassy informs you that it is not able to accommodate you right now and will contact you at the appropriate time."
Yesterday, Mr Symonette also called for a tempered approach to immigration backlogs that have seen applicants wait 15 and 20 years for citizenship.
He reiterated there was only a constitutional entitlement to apply for citizenship for persons born in the country to foreign nationals, not to receive it.
He underscored in a number of cases immigration officials have tried to contact applicants but could not find them, or there were insufficient documents.
"Whilst I understand persons have difficulties, we are working with it," he said, noting the citizenship committee established in March had approved up to 400 applications of persons born in the country.
On Monday, Tribune Insight reported on the judicial review application of a Bahamas-born woman who has waited some five years for a decision on her application.
The woman said she and her legal counsel had visited the department on a weekly basis.
Yesterday, Mr Symonette issued a challenge to any applicant who had been waiting more than ten years for a determination on their citizenship application, to email him with their name, telephone number, and a copy of the last letter they received from the department.
He advised those applicants to contact him at his personal email address: brentsymonette54@coralwave.com.
The department also plans to launch a website that will allow applicants to follow up on their application.
"I would appreciate persons contacting me and I will try and assist," he said, "before I have to read about it in the national press, which is not the way to go.
"Immigration is doing the best they can, immigration officers are challenged and we will try and do the best we can."
Mr Symonette also told reporters outside Cabinet the department is set to move to a paperless system on September 10 after a slight setback.
He said the fee increase for work permits has not slowed down applications, adding he had approved some 500 work permits for Haitian nationals over the past three days.