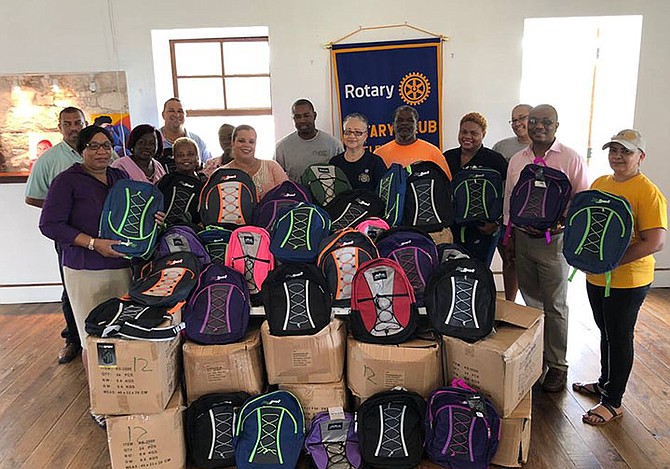 WITH the recent value added tax hike, cost of living increases and a 25 percent cut to the government's school uniform assistance budget, Bahamas Striping Group of Companies is urging local companies to do their part to help more students from disadvantaged homes prepare for the new school year.
"With the start of a new school year less than a week away, we can do better," said BSGC president Atario Mitchell. "We must do better. Time is running out."
Other companies might have tightened their belt, cutting back on donations to nonprofit organisations, but Bahamas Striping is bucking the trend, putting its money where its mouth is.
Through its annual back-to-school initiative, the operation, which has only been in business for eight years, is supplying backpacks, notebooks, pens, pencils, sharpeners and rulers for 10,000 students across The Bahamas.
"It did not make sense for us to reinvent the wheel and host our own back-to-school school event which would cost money that could be put to better use purchasing school supplies for those in need," said Dominic Sturrup, BSGC's senior vice president of business development.
"To boost efficiency we thought it best to partner with active civic and charitable organisations to distribute our back to school supplies. These organisations are plugged into the communities, schools and families most in need here in New Providence, but equally as important, on the Family Islands."
Bahamas Striping brought strategic partners onboard to help defray cost without negatively impacting quality.
"Betty K, one of the largest shippers in The Bahamas, and the fast-growing Island Maritime Customs Brokerage graciously agreed to partner with us in importing the school supplies," said Dr Allen Albury, BSGC's managing director.
"Then, we turned to our civic partners to bring in their enthusiastic team of volunteers to pack and distribute bags."
Bahamas Striping's giveaway has more than tripled in size since its inception in 2013, when the company and its subsidiary, Airport Maintenance Services Ltd, donated 3,000 bags to the Urban Renewal Commission.
In 2017, the initiative expanded to include notebooks. This year pens, pencils, sharpeners and rulers were added to the list.
Recently, Bahamas Striping executives travelled to Eleuthera to present the island's Rotary Club with 620 school bags.
In the nation's second city, BSGC sent 100 bags to a local Rotary Club.
BSGC has contributed stuffed backpacks to more than ten constituencies' back-to-school events and dozens of civic and charitable organisations.
BSGC encompasses Airport Maintenance Services, Caribbean Pavement Solutions, Bahamas Themed Photography, Abaco Caribbean Holdings Limited and Bahamas Striping from which the group takes its name.