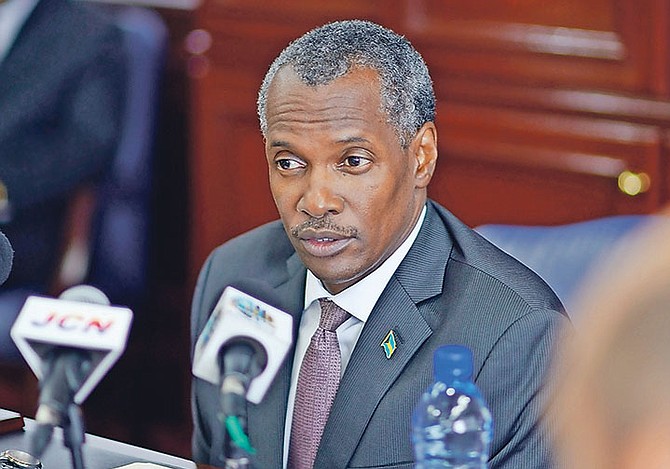 By KHRISNA RUSSELL
Deputy Chief Reporter
krussell@tribunemedia.net
CBI Mobile – the software company owned by Bahamas Power and Light Chairman Donovan Moxey – cannot be approved for any contracts with the power provider, at least not while he's on the board, Public Works Minister Desmond Bannister said yesterday as he sought to downplay concerns that the matter has sparked.
And there is "absolutely" no reason for anyone to be worried about it, Mr Bannister insisted.
This appears to contrast with Mr Moxey's admission earlier this week that the company could still potentially receive such an award as long as he recused himself from the discussions and a final decision.
However, according to Mr Bannister's remarks yesterday, CBI Mobile is essentially out of the running for any contracts with BPL. However, the minister was still relatively tight-lipped on the situation when reporters approached him on the sidelines of a press conference at the University of the Bahamas. 
Asked by The Tribune about public concerns of a potential conflict of interest, Mr Bannister said: "His company was not approved for anything. There is no conflict of interest.
"The chairman's app-making company was not approved for anything (and) it can't be approved while he's chairman.
"It can't be approved for anything while he's chairman," the Carmichael MP repeated when he was asked if it was problematic for Mr Moxey to admit his company was not being removed from any future contract offerings.
He did not answer a question about whether this was discussed with him before Mr Moxey was appointed, only responding: "It's important for me to say what I just said."
Referring to the matter yesterday, Mr Moxey told The Tribune: "The minister and I have discussed matters and I am fine with what he has said. I do not wish to discuss the matter further."
Public outrage brewed this week after the new BPL chairman said he saw nothing wrong with the board giving his software company a contract once he is not a part of the process.
Some observers questioned if the Minnis administration was getting a slap on the wrist over the controversy.
Former Tall Pines MP Leslie Miller said if he was still the executive chairman of BPL, he would not have got off so easily.
"They would have killed me," Mr Miller said on Tuesday.
Mr Moxey has also said he had a fiduciary responsibility to CBI Mobile's shareholders when he was asked previously why he would not just remove his company from potential consideration.
In this case, Robert Myers, principal of the Organisation for Responsible Governance (ORG), previously said Mr Moxey removing himself from the decision-making process would not do enough to improve the optics surrounding potential conflict of interest. He added the new chairman needed to make a decision on whether he preferred to serve his own interests or that of BPL.
Having such a seat at BPL would give him an unfair advantage over his competitors, Mr Myers insisted.
The Nassau Guardian revealed earlier this week that Mr Moxey had lobbied several times in emails just months ago for BPL to contract CBI Mobile to use the bill payment app he had created, MobileAssist.
During a press conference on Monday, Mr Moxey would not give an undertaking that his company would not vie for future BPL contracts while he sat as chair, and when questioned further he said he could not speak for his entire board or shareholders, and would not do so.
Mr Moxey has maintained that no deal was ever reached with the BPL to use his app, adding there was not one currently in place. His view was that there is nothing wrong with his involvement in both companies as long as he recused himself from any board discussions on the matter.