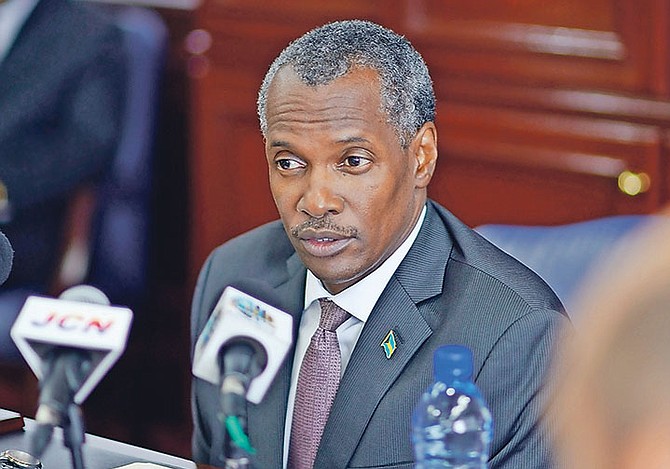 Minister of Public Works Desmond Bannister.
Stories this photo appears in:

AS HE blamed rising international gas prices for the escalating cost of electricity in the country, Works Minister Desmond Bannister said Bahamas Power and Light has worked out interim solutions until Bahamians begin to reap rewards from the Shell No

A Cabinet minister yesterday said he was "dumbfounded" and "lost for words" over claims the Bahamian Contractors Association's (BCA) president had been forced out by political pressure.Desmond Bannister, minister of works, told Tribune Business that

WORKS Minister Desmond Bannister yesterday defended the decision to start a resurfacing exercise for Bernard Road tomorrow that will last for 21 working days.

PRIME Minister Dr Hubert Minnis said yesterday that he "absolutely" still has faith in Public Works Minister Desmond Bannister despite several fires at Bahamas Power and Light Company, triggering power outages in the country.The most recent of these

FREEDOM Farm Baseball League founder Greg Burrows yesterday expressed concern that Public Works Minister Desmond Bannister was being led in the wrong direction over the Andre Rodgers Baseball Stadium.Mr Burrows, a former PLP senator, called Mr Bannis

The Andre Rodgers Baseball Stadium is a waste of taxpayer money that will "never pay for itself", a Cabinet minister admitted yesterday, amid steps taken to prevent a near-tripling of costs.

CBI Mobile – the software company owned by Bahamas Power and Light Chairman Donovan Moxey – cannot be approved for any contracts with the power provider, at least not while he's on the board, Public Works Minister Desmond Bannister said yesterday as he sought to downplay concerns that the matter has sparked.