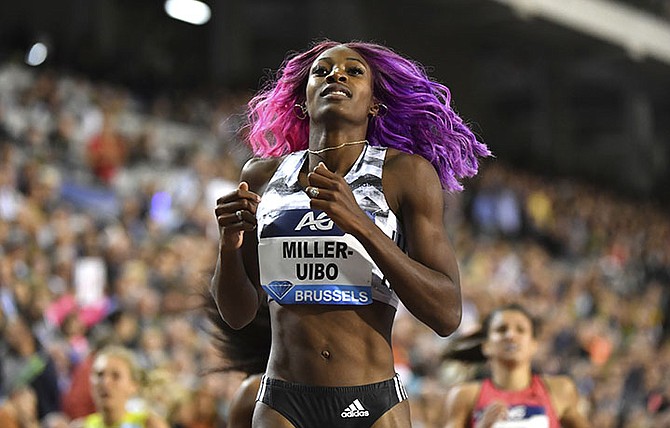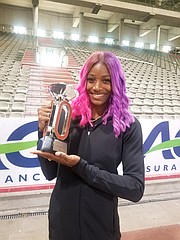 By BRENT STUBBS
Senior Sports Reporter
bstubbs@tribunemedia.net
BRUSSELS, Belgium: Bahamian double national record holder Shaunae Miller-Uibo said her goal was to defend only her 200 metre title at the International Amateur Athletic Federation's AG Memorial Diamond League Final this year – and she did it in style.
While she watched her biggest rival this year, Salwa Naser from Bahrain, take her 400m crown in a time of 49.33 seconds, Miller-Uibo got back on the podium at the King Baudouin Stadium by clinching her second consecutive 200m crown in grand fashion, running away another strong field of sprinters in 22.12 and pocketing $50,000 for her efforts.
Once she took the lead coming off the curve, no one was going to chase down the 6', 1" 24-year-old Bahamian. 
Netherlands' Dafne Schippers tried. As a matter of fact, she led the race through the curve. But when they got on the straightway, Schippers started to fade as the Bahamian accelerated into another gear. 
After she crossed the finish line, Miller-Uibo rushed to greet her husband Maicel and her parents, Shaun and May Miller, who were watching from the stands. 
"It feels amazing. To come back and get another title is amazing," said Miller-Uibo, who noted that she had indicated earlier in the year that she was only going to defend her title here. 'I can take it home and add it to the collection. I give God all thanks and praise. I'm just happy with my performances so far this season. One more to go and I will be done."
After collecting her third Diamond League Cup from IAAF president Lord Sebastian Coe along with the 15 other winners on a massive podium on the field, Miller-Uibo got to take another chauffeured victory ride in the parade of champions.
Schippers had responded very well to having made the trip from Zurich, Switzerland just in time for the race. There she had been competing in the first of the Weltklasse Zurich Diamond League Finals where she was fifth in the 100m. But in Brussels she held on for second place in 22.53. Jamie Samuel ended up in third with 22.64.
Miller-Uibo still has some unfinished business as she prepares to join men's high jumper Donald Thomas in Ostrava, Czech Republic from September 8-9 where they will represent the Americas team in the IAAF Continental Cup.