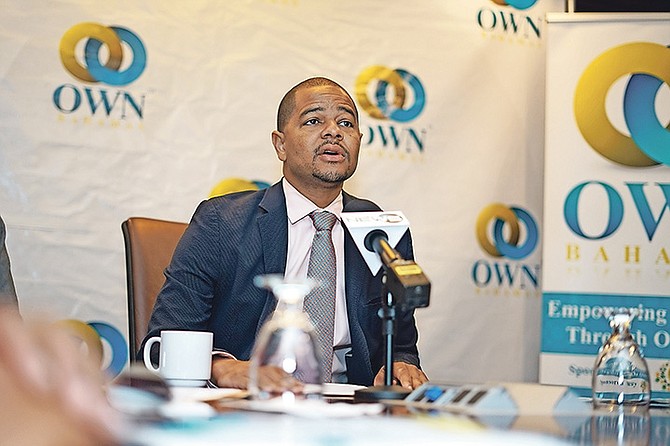 By NEIL HARTNELL
Tribune Business Editor
nhartnell@tribunemedia.net
Web shops last night warned the five percent patron tax is effectively forcing them to break the law as they launched their long-promised lawsuit against the Government's tax hikes.
Sebas Bastian, Island Luck's principal, told Tribune Business that the "arbitrary" dates announced by the Ministry of Finance for the levy's introduction on customer deposits and over-the-counter (OTC) lottery sales meant operators were potentially being placed in breach of the Gaming Act and its regulations.
He explained that web shops had been given insufficient time to-certify their games, technology platforms and platforms to accommodate the five percent levy, with the offering of any uncertified games violating the law and potentially "eroding public confidence" in the sector.
Mr Bastian spoke out as Dionisio D'Aguilar, minister of tourism with responsibility for gaming, pushed back against the web shop industry's long-threatened class-action lawsuit, arguing: "The Government has an inalienable right to tax."
The minister confirmed that his ministry had been served with legal documents by the sector's attorneys yesterday, with the matter scheduled to have its first hearing before Justice Indra Charles at 9.30am this morning.
Mr D'Aguilar said the papers listed three plaintiffs, TIG Investments (The Island Game), Paradise Games and GLK Ltd. The defendants are the Treasurer; acting financial secretary, Marlon Johnson; and the Gaming Board as industry regulator.
"I'd been advised it was on its way," the Minister told Tribune Business. "My first response is that the beautiful thing about the Bahamas is this is a democracy, so any person has the right to bring legal action against anybody.
"The Government feels strongly, and I'm sure it's going to be defended vigorously by the Attorney General's Office, that the Government has an inalienable right to tax. These are Acts of Parliament, but I guess if they feel they're unfairly treated they have a right to contest it."
Mr D'Aguilar said the Government had deferred implementation of the 5 percent patron tax several times in response to web shop concerns, and allow them to re-certify their games, but indicated there would be no more extensions.
"We've extended it to the first of September. It's our intention to commence collection of that tax at that time," he told Tribune Business of a levy set to be imposed tomorrow.
Mr Bastian, though, said his main complaint was the lack of due process and meaningful consultation between the Government, Gaming Board and web shop industry over the new and increased taxes.
He argued that Island Luck, and other operators, had "a reasonable expectation" that the Gaming Board would consult regularly with all licensees and "provide guidance in any changes to the carefully and strictly-regulated gaming system".
"I cannot modify my gaming platform unless it is done under the prescribed standards of the Gaming Board, is properly tested and then certified by an independent gaming laboratory," Mr Bastian told Tribune Business. "The Gaming Act and regulations have criminal penalties and civil liability for any breach of their provision.
"The Ministry of Finance has arbitrarily announced unreasonable and impractical implementation dates for the modification of gaming platforms without any consultation with the industry and no proper regard for the statutory requirements for the modification of gaming platforms.
"Any uncertified modifications to a gaming platform would violate the Gaming Act and regulations, undermine the integrity of the gaming industry, erode public confidence and could possible expose our jurisdiction to international sanctions."
Mr D'Aguilar told Tribune Business last month that this was precisely the reason the Government deferred implementation of the 5 percent patron tax - to give the domestic gaming operators the opportunity to have their games re-certified.
The Island Luck chief's comments indicate this was still insufficient, with Mr Bastian last night saying the best-regulated and most competitive gaming jurisdictions all enjoyed strong partnerships between regulator and operators "based on mutual trust and frequent consultations".
"In the Bahamas I expect no less," he told Tribune Business. "It leaves me to question: Why is it so hard to do this the right way?"
The long-threatened web shop industry lawsuit is the next phase of the rift that emerged with the Government after it imposed a new tax structure, together with higher rates, on the sector in the 2018-2019 Budget.
Alfred Sears QC, the Bahamas Gaming Operators Association's attorney, in a furious post-Budget counter-attack told the Minnis administration that the tax increases were so "drastic" that the government's main motive appeared to be "expropriation" of the domestic gaming sector - meaning that it was seeking to seize, and take over, their property.
He warned that the increases will "decimate" all operators and 3,000 jobs in less than a year, and accused the Government "expropriatory, discriminatory, excessive and penal" tax rises of up to 355 percent.
Mr Sears also added that the proposed "sliding scale" tax structure the Government was imposing on the industry was tantamount to "compulsorily acquiring more than 90 percent" of its revenue.
Studies commissioned by the industry, while retreating slightly from those numbers, still predicted mass web shop location closures, lay-offs and reduced economic activity. Many of the threatened closures, though, have yet to materialise.
"I'm delighted they haven't made any mention of that for a while," Mr D'Aguilar told Tribune Business of the forecast downsizing, although he declined to comment further.
The Minister previously told Tribune Business that The Bahamas' "national interest" demanded that the government "slow down the rate of growth" in web shop gaming through increased taxation.
He said too many Bahamians are "robbing their livelihood" to feed an industry whose gross gaming revenue (GGR) will have almost doubled in just four years if 2018 forecasts prove accurate.
The minister, who has responsibility for gaming regulation, reiterated his belief that a web shop sector generating around $50m in collective profits would be able to absorb the tax hikes more easily than it is letting on.
Pointing to the 92 percent top-line growth forecast to be enjoyed by the web shops since 2014, Mr D'Aguilar said this $100m-plus revenue rise was evidence that the sector had been able to shrug off a much greater trauma - the impact of its legalisation four years ago.
"The gaming industry is growing so exponentially," he told Tribune Business, pointing out that web shops' collective GGR had increased from $112m in 2014 to $154m in 2015, representing a $42m year-over-year increase in the first year of legal operations.
Mr D'Aguilar added that the industry's revenues had grown by around $20 million "every year thereafter", hitting $175 million and $195 million in 2016 and 2017 respectively, with projections of similar growth to $215 million for 2018 (prior to the Budget's tax changes).
"It's almost doubled in four years," the Minister said of GGR. "It's in the national interest to slow down the rate of growth. We don't want people to keep throwing money into this.
"People clearly want disposable income to put into gaming. They're robbing their livelihood, quality of life, in order to feed this past-time."
Under the web shop industry's new sliding scale tax, those operators earning up to $20m in revenue will be taxed at a rate of 20 percent. Six of the seven chains fall only within this bracket.
Revenues falling between $20m and $40m will be taxed at a rate of 25 percent, while earnings between $40m and $60m will be taxed at a rate of 30 percent.
Revenues between $60m and $80m will attract a rate of 35 percent; those between $80m and $100m, some 40 percent; and those over $100m will be levied at 50 percent.