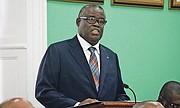 By MORGAN ADDERLEY
Tribune Staff Reporter
madderley@tribunemedia.net
PUBLIC Service Minister Brensil Rolle defended civil servants against critiques while also underscoring the Minnis administration's commitment to improving the public service sector after Cabinet Secretary Camille Johnson was quoted in a recent Inter-American Development Bank (IDB) report calling some key workers "weak".
In a statement released yesterday, Mr Rolle described his ministry as an "easy target" that was badly affected by the "unnecessary and unprecedented hiring" of workers by the Christie administration.
In the IDB report "Building State Capacity in the Caribbean: The State of the Civil Service in The Bahamas," The Bahamas scored only 19 out of 100 for civil service development and quality — ranking only higher than Suriname and behind countries such as Barbados, Jamaica, and Trinidad and Tobago.
According to the report, Ms Johnson "indicated that the public service is overstaffed by as much as 40 percent" and "described the cadre of deputy permanent secretaries (DPS) as 'extraordinarily weak'."
During a Senate debate last week, Senator Fred Mitchell raised alarm about Ms Johnson's comments. He described her remarks as "shocking" and "damning" and warned against such "blanket statements".
In defence of his ministry, Mr Rolle yesterday wrote: "The Bahamas public service has some of the more dedicated and productive citizens in the Commonwealth of The Bahamas. There are scores of public officers who have given a lifetime of outstanding service.

"Unfortunately, as in many other areas of Bahamian life, there is a tendency to paint all members of any group with the same brush," he continued. "The public service has often been an easy target.
"There is an ongoing and perennial need for public sector reform. Unfortunately, the last administration engaged in various poor practices, including the unnecessary and unprecedented hiring of more individuals than required in the public sector."
Noting the IDB study has "garnered considerable attention," Mr Rolle said its "broader message" was on the type of measures needed to improve weaknesses within the sector and to help make it more efficient, effective, and productive.
"The current administration is committed to improving the public service in order to better serve the Bahamian people," Mr Rolle continued. "Indeed, this is a priority for the Minnis administration.
"Even as improvements are made, it is essential that we acknowledge and celebrate the many fine and dedicated public officers, who serve, protect and defend our country on a daily basis, including those in the uniformed branches, who have been critical in reducing crime over the last year and a half.
"As minister of the public service, I am also committed to ongoing reform in my ministry in order to better serve the public service and the Bahamian people.
"Having spoken to the prime minister, Dr Hubert Minnis, on this matter, I take this opportunity to yet again express the gratitude of the prime minister and the government, to the many public officers who serve the common good and our Commonwealth with integrity and distinction."