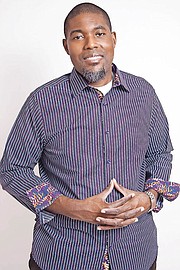 By ALESHA CADET
Tribune Features Reporter
acadet@tribunemedia.net
David Beneby Jr has lived with multiple sclerosis for more than 20 years. Throughout his journey he has dedicated his life to motivating and empowering others to embrace life's challenges.
He is now set to launch his first book, "Stand Up – A Survivor's Journey of Multiple Sclerosis", sharing his struggles and his triumphs in the hope of inspiring others.
David was just 14 years old when he was diagnosed with multiple sclerosis (MS), a chronic, often disabling disease of the brain and spinal cord. In people suffering with MS, the immune system attacks the protective sheath that covers nerve fibres and causes communication problems between the brain and the rest of the body. Eventually, the disease can cause the nerves themselves to deteriorate or become permanently damaged. To date, there is no cure for the disease.
Despite his devastating diagnosis in 1997, David remained focused, graduating from Queen's College in Nassau and later obtaining his Bachelor degree in Economics from the Florida State University. He has also worked in commercial banking for over 10 years and has recently branched out into motivational speaking.
David's desire to become an author stems solely from his wish to inspire others with his story, as well as encourage those facing similarly difficult challenges in life to never give up.
"The book highlights my good days and not so good days. It includes captivating chapters like, 'It was a Good Fall', 'You Have to Fight for It', 'Why, Why, Why?, and 'Words to Live By'. There are also scriptures, quotes, stories and action points to uplift and inspire individuals to stand no matter what challenge they may be facing," said the now 35-year-old.
It was in college that David first took to journalling. During that time he found writing was therapeutic for him. And as he got older, he said he realised the importance of capturing and sharing stories.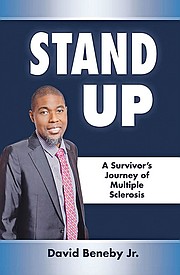 "Our stories are our testimony. This book venture is the first for me and I feel blessed, grateful, humbled and proud to be in this new chapter of my life," he told Tribune Health.
He hopes every page of this book will speak to readers. The key message here, he said, is to fight for what you want in life and keep a positive mind set.
"Before I began and ended each chapter, I prayed for direction. Each word was written with purpose and the readers will be able to experience this," said David.
The launch of "Stand Up – A Survivor's Journey of Multiple Sclerosis" will take place on Thursday December 13, at 6pm at the Meeting Lounge, off Chesapeake Road,
For more information, message the 'D Ben Speaks' Facebook page; e-mail dben_jr@hotmail.com or call 455-0114 to place an order. Books will be available at the launch for $25.