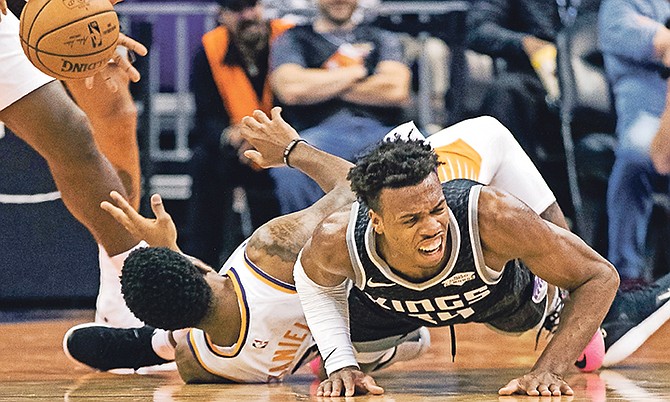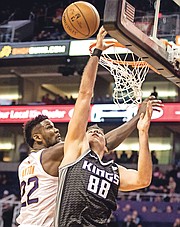 By RENALDO DORSETT
Tribune Sports Reporter
rdorsett@tribunemedia.net
PHOENIX, Arizona — The much anticipated first NBA regular season game featuring two Bahamian born players quickly turned into a lopsided win for Buddy Hield and his Sacramento Kings.
Hield scored 20 points in just 18 minutes, while Deandre Ayton had 10 points and nine rebounds in the Kings' 122-105 win over the Suns at Talking Stick Resort Arena.
"Eighteen minutes? I've got to talk to Dave [Joerger] about that," Hield joked. "It was the game flow, right spots, right time, my teammates were able to hit me and we were able to capitalise on that and it was a great team win," Hield said.
"It was a big confidence builder for this young group, we have a tough road trip ahead and we have to capitalise on every game we play."
It was also their first win over a Pacific Division opponent and they improved to 6-6 on the road this season. Sacramento continues their four-game road trip which concludes on December 10 in Chicago.
The Kings won their second consecutive game and improved to 12-11 on the season. It represents their best 23-game start to a season since 2014-15.
It is also the deepest the Kings have been over .500 since the 2005-2006 season when they finished 44-38 and advanced to their most recent appearance in the NBA playoffs.
They outscored the Suns 36-9 in the opening quarter.
Hield took and made his first three of the game just over a minute after tipoff.
Ayton followed with a wide-open dunk on the ensuing possession for his first score. Buddy's second three of three of the quarter gave the Suns their first double digit lead, 13-2 with 7:10 left to play in the period. The Kings lead continued to mount and reached 27-6 on a Kosta Koufous runner which prompted a chorus of boos from the crowd at Talking Stick. The 36-9 first quarter lead reached beyond 30 in the second quarter when Hield made another three for a 46-13 advantage.
This was the first meeting between the two teams this season. The Suns will also host game two, January 8. The venue shifts for game three when Hield and the Kings host the Suns February 10 at Golden 1 Center in Sacramento, California. The final regular-season meeting between the teams takes place March 23 in Sacramento. The Suns won three of the four matchups between the team last season.
In 21 minutes, Ayton finished just shy of his 14th double double of the season.
Just last month, Ayton became the fourth player in the past 25 years to achieve score at least 300 points and grab 200 rebounds in his first 20 NBA Games.
He joined fellow former No.1 overall picks Blake Griffin, Tim Duncan and Shaquille O'Neal on the list.
The rookie center is averaging 16.2 points, 10.2 rebounds and 2.7 assists per game on 59 percent shooting from the field.
He is ranked third in the league and leads all rookies with 13 double doubles on the season. Ayton is also the leading rebounder among rookies, is second in scoring and field goal percentage and is fourth in assists. He has nearly twice as many double doubles as Trae Young I second place with seven.
The shorthanded Suns started three rookies, Ayton, Mikal Bridges and Ellie Okobo. Ayton is shooting 60 percent from the field thus far this season, ranking first among rookies and eigth overall on the league leaderboard. Ayton's current mark is third-best in NBA history among rookies with enough field goals to qualify.
Hield finished last season as the Kings second-leading scorer averaging 13.5 points (.446 field goal percentage, .431 three-point percentage, and 88 three throw percentage), 3.8 rebounds, 1.9 assists, 1.06 steals in 25.3 minutes per game. He started just 13 of his 80 appearances in his second season.
This year he leads the Kings in scoring at 18.4 points per game on 47 percent shooting from the field, 41 percent from three and grabbing 5.5 rebounds per game in just over 31 minutes.
The matchup between the two was the first in NBA history featuring two Bahamian born players I the same game. Of the previous Bahamian born players, none of their careers intersected to play with or against each other. Thompson played from 1978-1991, Ian Lockhart suited up in a single game for the Suns in 1990 and Dexter Cambridge played one season for the Dallas Mavericks in the 1992-1993 season. Canadian-born Rick Fox played 13 seasons with the Celtics and Lakers from 1991-2004 and played against Cambridge twice during the aforementioned 92-93 season.
Both players cited the impact their exposure at the highest level of the sport can have on a younger generation of aspiring Bahamian athletes.
"Its good as motivation, to give kids back home hope and lets them know that dreams do come true," Hield said, "Once you put your faith in God and trust him, anything is possible."
Hield was drafted No.6 overall in the 2016 NBA Draft and Ayton was the No.1 overall selection in the 2018 NBA Draft. They became the first Bahamians drafted in the NBA lottery (top 12 selections), since Mychal Thompson in 1977.
"It shows them anybody can make it. Buddy and I, when we were younger, we were the kids in the camp saying we wanted to be NBA players as well and we wanted to be just like the NBA players visiting the camp," he said, "Hard work pays off and kids have to know its not easy playing at the top level, it's a lot of responsibility and a lot of sacrifices so they just have to be prepared for that.
Fellow national basketball team player Lourawls "Tum Tum" Nairn Jr, is currently a member of the Suns front office with a role in player development this season, giving him an opportunity to work alongside Ayton.
"I think it means a lot seeing two guys who basically came from nothing, worked hard their whole life to get to where they are at," he said, "For a lot of kids back home to see no matter where you came from if you work hard, be respectful, take care of business you can do what you want to do."