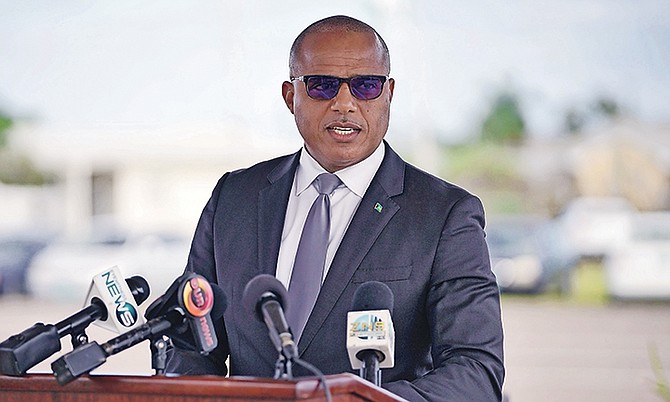 NATIONAL Security Minister Marvin Dames said yesterday law enforcement will "go vigorously" after those responsible for the two double homicides that occurred in the capital this week.  As Monday's shooting occurred at Sandilands Rehabilitation Centre, Mr Dames also said he is working with a team to create a "robust policy" to improve security at "all government properties".
Mr Dames also confirmed that Sandilands' surveillance cameras were not working at the time of Monday's incident. He made these remarks yesterday following a graduation ceremony for inmates at the Bahamas Department of Correctional Services.  
On Monday morning, Neil Deveaux and Ashlee Hilton were ambushed in their car as they attempted to leave Sandilands following a physical therapy session for Deveaux, who was shot several months ago. 
Roughly 36 hours later, two men were found shot to death in a car in Jubilee Gardens early Wednesday morning. The men were reportedly cousins, one of whom was being electronically monitored by police.  
When asked to speak to concerns regarding these violent incidents, Mr Dames said the public has no need to be worried as these incidents are "confined to a certain grouping of individuals" who officers will go after "as aggressively as (they) can." 
"I understand that these are very serious matters, matters that are somewhat concerning to me as a minister," Mr Dames said.  
"I met with the police command yesterday and got a full briefing. I am satisfied that the public (has) no need to be concerned in regard to that matter, other than what the intel is telling us is that they are confined to a certain grouping of individuals. 
"My only concern is when these small grouping of individuals come out in the public sphere. We cannot tolerate that, we won't tolerate that. The police are making tremendous inroads in their investigations into these matters and I am very confident that they will bring these matters to a close…we will go vigorously after those persons responsible.
"As I continue to say, not in the Bahamas anymore," Mr Dames continued. "Not in the Bahamas anymore. We're not going to tolerate a small group of misfits believing that they can go anywhere in this country and conduct themselves in a manner that is detrimental to the entire population. 
"We will go after them as aggressively as we can, within the framework of the law, and I want to make that very clear, but as aggressively as we can. And we are. We are."
Mr Dames noted the decrease in murders this year compared to 2017, but said the police have a significant amount of work to do.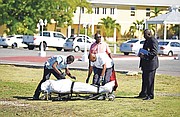 Police said there have been 83 murders this year; this time in 2017 there were more than 100 killings.
Mr Dames also reiterated comments from police that officers will be increasing their presence during this holiday season, and that those with administrative duties have been reassigned to "the streets." He added the police will continue to be supported by the Royal Bahamas Defence Force. 
 When asked if security at Sandilands will be increased following Monday's shooting, Mr Dames answered in the affirmative, saying this will extend to all government properties. 
"That is being done. As a government, when we came into office, we understood the responsibility in front of us, as the Ministry of National Security one of the things that we have already embarked upon and have been working on for some time now as a part of our hit list, so to speak, is a comprehensive plan for the security or the securing of government properties. I have been working with a team who is currently completing a draft (document) on that.  
"It's all government properties. Because the incident (was) at Sandilands, you know we don't want to isolate it to Sandilands. And so (I'm) hoping very shortly, hopefully in the new year we will have a robust policy that I hope to take to Cabinet and share with my Cabinet colleagues and work towards having that approved.  
"Now after having said that, immediately after this incident I have been in communication with the minister of health. He and I have spoken and we're looking at reviewing the security protocols there. We know that they have cameras up. Those cameras were immediately assessed by the Royal Bahamas Police (Force) immediately after that event. 
"And one of the things that they discovered was that the cameras were not on, were not working. And so, we're moving as a matter of urgency to see what we can assist with in the short term."
Mr Dames also spoke to other initiatives police will be implementing next year.  
He said the request for proposals (RFP) for the second phase of the nation's CCTV programme has just been completed.  
He said the contract with the selected company is "close" to being finalised, adding the government is ensuring there an exit clause to avoid being locked into anything. 
"And so we're shooting at possibly signing that contract… before the end of this month, before the Christmas holidays. We have an RFP out now currently for our drones programme and that is going tremendously well. I was just updated on (it) yesterday. We  have approximately 20 submissions with others still coming in. And so that's going to be a very good one. 
"We will probably close that around the 11th of January and review all of the submissions and make our determination certainly before the end of the month. 
"And so I'm hoping that sometime around March of next year we should be signing a contract with some company, with the company who wins that particular one. Very shortly, our body cams for police officers, that RFP is currently with the Office of the Attorney General, who is currently reviewing.  
"So I'm hoping by January 2019 that we will have that before Cabinet for approval and out by the end of January we should know which company it is. And hopefully again sometime in February, March we should hopefully be signing a contract with someone in respect to that."