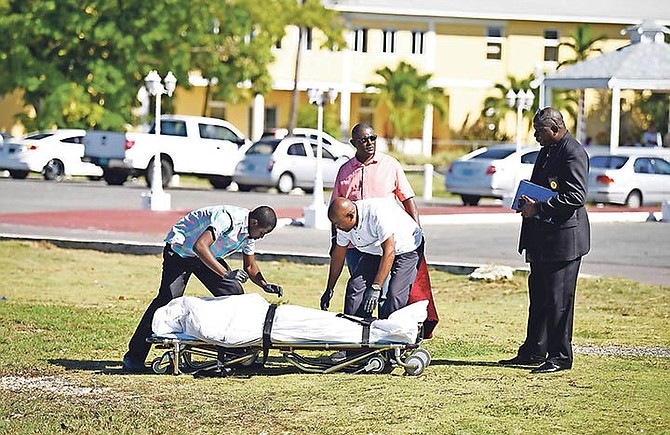 The body of one of the victims is removed from the scene outside Sandilands on Monday. Photo: Shawn Hanna/Tribune staff
Stories this photo appears in:

PRIME Minister Dr Hubert Minnis is convinced Bahamians are no longer fearful of crime under his administration as was the case in years past, adding yesterday he was pleased with the accomplishments authorities have achieved in a short timeframe.

NATIONAL Security Minister Marvin Dames said yesterday law enforcement will "go vigorously" after those responsible for the two double homicides that occurred in the capital this week.  As Monday's shooting occurred at Sandilands Rehabilitation Centre, Mr Dames also said he is working with a team to create a "robust policy" to improve security at "all government properties".

AN engaged couple were murdered yesterday in an apparent ambush near the general entrance to the Sandilands Rehabilitation Centre in Fox Hill.