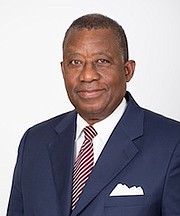 By NEIL HARTNELL
Tribune Business Editor
nhartnell@tribunemedia.net
The Bahamas will score a "false victory" if it avoids Europe's latest "blacklist", a former finance minister argued yesterday, as it represents another step in the "slow death" of financial services.
James Smith, pictured, also an ex-Central Bank governor, told Tribune Business that The Bahamas continues to "give away" its second-largest industry without offering any resistance and "getting nothing in return" from either the European Union (EU) or Organisation for Economic Co-Operation and Development (OECD).
While the Government continued to "pat itself on the back" for complying with these groups' anti-tax evasion demands, Mr Smith argued that The Bahamas will ultimately "have no business because year after year we will be shrinking" due to the new regulatory regime forced upon it.
He added that the OECD was advancing rapidly towards its ultimate goal of "obliterating" The Bahamas and other international financial centres (IFCs), and forcing the financial services business they once attracted back onshore to its member states, by "stripping" these nations of their former competitive advantages.
While acknowledging the need for The Bahamas to comply with international best practices and regulatory standards, Mr Smith said this nation needed to at some point "draw the line" given that compliance was effectively destabilising the country's second-largest industry and source of high-paying middle class jobs.
"It has to be looked at in the context of the OECD's initiative to strip offshore centres of their competitive advantages in attracting clients and funds from other nations," Mr Smith told Tribune Business of the package of Bills passed by the House of Assembly on Wednesday.
"There's been no push back by The Bahamas or any of them [IFCs]. We can implement international standards, information exchange and tax transparency, but at the same time - if it goes to the point in our context of undermining 15-20 percent of our GDP - one has to ask: At what point do you draw the line?
"It's impacting a sector that provides a good standard of living, with a number of people employed at a high and mid-management level, and you're getting nothing in return."
Mr Smith's concerns highlight the different views held in government and the financial services industry over how The Bahamas should respond to initiatives from the OECD, EU, G-20 and other international bodies.
Many, like the now-CFAL chairman, argue that The Bahamas should form a united front with other IFCs and Caribbean nations to tenaciously defend their sovereignty and constitutions, not to mention their financial services industries and economies, from external pressures led by the world's most powerful nations.
Others, though, are firm that the demise of The Bahamas as an IFC has been greatly exaggerated, and that the latest legislative changes can be exploited to reposition the economy to this nation's advantage notwithstanding that these are enforced changes.
K P Turnquest, deputy prime minister, in unveiling the legislative package designed to address the EU/OECD demands, effectively warned that resistance was futile given that the consequences of non-compliance would be far worse than any fall-out from these Bills.
Besides the reputational damage from any further "blacklisting", which might drive away current and potential investors, Mr Turnquest said many financial institutions and their jobs might also flee the jurisdiction should such a fate befall The Bahamas.
He added that The Bahamas might also lose access to international markets and the global financial system, with correspondent banks severing the links that this nation - as an IFC and international business centre - relies on to conduct commerce and everyday transactions that fund a multi-billion dollar import bill.
Mr Turnquest again indicated that The Bahamas could turn the EU's demands for companies to conduct real business, and establish a physical presence in this nation, by attracting them to these shores, bur Mr Smith yesterday railed against what he described as "a new form of colonialism" from both itself and the OECD.
"They make up the rules and we simply go along with it, and pat ourselves on the back that we're not on the 'blacklist', for which they change the rules and we can never keep up," he told Tribune Business.
"They're moving rapidly towards the obliteration of offshore centres. While we think we're complying, they're transferring our business to themselves." Besides onshore centres such as London, New York and Frankfurt, Mr Smith pointed to US states such as Delaware, Nevada and Wyoming as grateful recipients of business from The Bahamas and other IFCs.
Neither of these states have to comply with the ownership disclosure and physical presence rules being imposed on The Bahamas, and the ex-Central Bank governor added: "We're simply lying down and taking it, and making no attempt to get into dialogue with other IFCs to push back.
"We're simply giving it away and allowing the OECD to destroy it. From a purely economic point of view we're sacrificing one of the major contributors to GDP without any push back. We have to decide if we're a sovereign nation or not."
Mr Smith said the OECD, in particular, had no international legal or enforcement powers, and was populated by bureaucrats rather than being a government. "At some point we have to stand on our own two legs as a country," he continued. "You're going to lose the business anyway, so may as well go down fighting.
"It's kind of a slow death. What's the advantage of coming to The Bahamas when all your confidentiality is gone, the opportunities arising from low or no taxation are gone.... We're becoming tax collectors for other countries and don't withhold any for ourselves.
"Year after year we'll be shrinking. There'll be some business that remains in The Bahamas, as lot of it was tax compliant anyway. We may boast that we're totally compliant, not on any blacklist, but we will have no business. It's a pyrrhic victory. I don't see any silver lining."
Mr Smith said complying with the latest EU/OECD demands merely continued the pattern of imposing increased costs and bureaucracy on the financial services industry to the point, undermining its price competitiveness to the point where it "spends more time meeting" international obligations than doing business.
"Expenses are going up, revenues are going down," he told Tribune Business. "That's untenable for any business. Over time we will see a decrease in the number of operations here. That means a decrease in the revenue government will get from them, and an increase in unemployment. It seems to me thing has not been looked at critically to see where we want to go."
More like this story