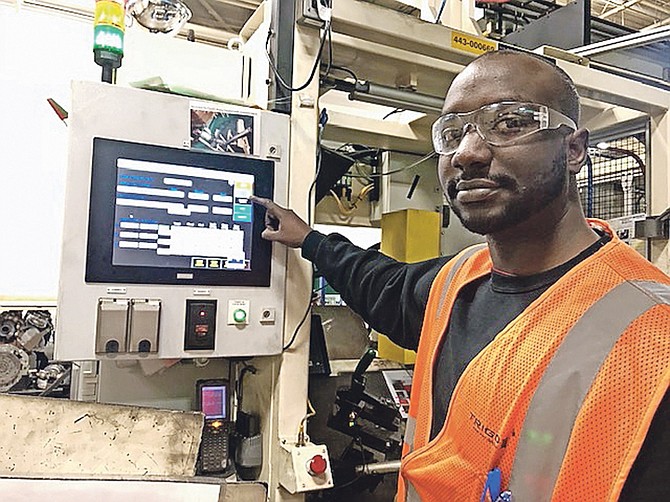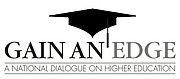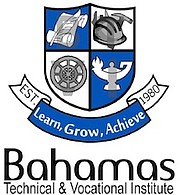 When Princeton Boston entered the gates of the Bahamas Technical and Vocational Institute (BTVI) in 2010, he was focused. By summer of the following year, he had earned a certificate in auto mechanics with his sights set on college abroad. Today, Princeton is a mechanical engineer at Benteler Automotive, a German manufacturer for exhaust systems in Michigan.
Princeton, pictured right, is an example of the quality of students BTVI continues to churn out and embodies the institution's vision, which is "To provide learning opportunities that enable individuals to be globally competitive and economically independent."
"The education I received from BTVI was priceless because I took full advantage of the opportunities given to me by my instructors. I continually build on the education I got from BTVI which was second to none in my field; that's how I became so successful, in addition to determination to always do my best to represent my BTVI and The Bahamas," said Princeton, who is now based in Grand Rapids.
"With this education, it is safe to say it made me one of few people of colour to be in an engineering department of a German company and the only foreigner here at Benteler. Due to my in-depth knowledge of cars and how they function, I am able to design and improve on the current model," he added.
After BTVI, Princeton attended New England Institute of Technology in Rhode Island, obtaining an Associate's degree in Advance Automotive Technology. The young man who was a Lyford Cay Scholar, a Ministry of Education National Technical Scholar and had a scholarship from Albany, then matriculated to Ferris State University where he graduated with a Bachelor of Science degree in Automotive Engineering in 2017.
"One of my greatest moments at New England Institute was when I received the highest score ever recorded for the Electrical subject with an overall 98.9% and the president came down to give me a mini scholarship for my achievement at the institute," he reminisced.
BTVI has had Memoranda of Understanding with New England Institute of Technology (NEIT) for several years, with the latest one in Information Technology being signed in 2017. Designed to link the two institutions, the partnership includes scholarships for BTVI students to attend NEIT to complete Bachelor level studies.
Princeton, who also studied Auto Mechanics as an elective at Doris Johnson Senior High School, spoke highly of BTVI, stating that the institution prepared him to systematically address car problems.
"With the hands-on knowledge, I could find the problem in the car and fix or address the issue which ends up being a huge factor for most engineers, due to the fact that some engineers cannot troubleshoot a problem in a car because they don't know how it functions; some only design and manufacture the car parts," he revealed.
The young man, whose goal is to become a Senior Engineer, has already been afforded the opportunity to train for a Benteler Mercedes Engineering Training programme in Stuttgart, Germany for six months. "The experience was great because not many people of colour are seen around there and they always laughed when I tried to speak German which was a bit of a challenge for me," he recalled.
Meanwhile, Princeton encourages others to choose the path of technical vocational education and training (TVET).
"This is due to the fact that technical training is always advancing. It has led me to a career of an engineer at a well-known German company. Now more than ever, America is recruiting more technical professionals," he stated.
Furthermore, Dean of Construction and Mechanical Trades, Alexander Darville said Princeton's success speaks to the quality of BTVI's instructors. "Our foundation prepares students for the world of work, wherever that world might be. Princeton knew exactly where he wanted to go from day one even though he was offered a scholarship to another local institution. He opted to come to BTVI. He embraced it and BTVI became the vessel to help push him with our connections to New England Tech. He is a beacon for BTVI and we have more Princeton Bostons," said Mr Darville.
"Gain An Edge" is a biweekly collaboration of Lyford Cay Foundations, Bahamas Technical and Vocational Institute and University of The Bahamas aimed at promoting a national dialogue on higher education. To share your thoughts, email gainanedge@tribunemedia.net.