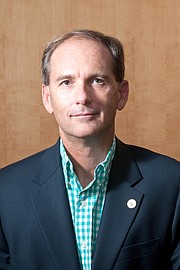 By NEIL HARTNELL
Tribune Business Editor
nhartnell@tribunemedia.net
The Bahamas is "maybe 25 percent of the way there" on economic and fiscal reforms, a governance campaigner said yesterday, with too few Bahamians feeling the benefits of this progress.
Robert Myers, pictured, the Organisation for Responsible Governance's (ORG) principal, told Tribune Business that economic growth was still "not half" of what The Bahamas requires despite the much-needed changes enacted by the Minnis administration to-date.
Speaking after the International Monetary Fund (IMF) released an upbeat assessment of this nation's moves following its December 3-7 visit, Mr Myers acknowledged that it would take time for the benefits of the Government's reforms to "trickle down" to the many Bahamians complaining that their living standards continue to go backwards rather than improve.
Reiterating that public sector costs and inefficiency must be tackled as a priority, the ORG chief estimated that Bahamian GDP growth could increase by one full percentage point or around $100m if the ease and cost of doing business - energy costs in particular - were transformed.
While the IMF yesterday stuck to projections that Bahamian gross domestic product (GDP) will expand by 2.3 percent and 2.1 percent in 2018 and 2019, respectively, Mr Myers said this remained well short of the 5.5 percent growth that the Fund itself said is needed to absorb all new workforce entrants as well as slash existing unemployment in half.
He agreed that there were "a lot of positive signs" from both the Government's own actions and the IMF evaluation, which suggested "the turn has happened", but The Bahamas needs much more if every citizen is to benefit.
"We could see another one percentage point put on [GDP growth] if we could get some of the plaguing ease and cost of doing business issues out of the way, and take power out of the way," Mr Myers told Tribune Business.
"If we could get all-in power costs down to 20-21 cents per kilowatt hour, you're talking about hundreds of millions of dollars in savings just on the Government alone. If we get the ease and cost of doing business moving, get some of the bureaucracy moved out of the way, and get control of the size, cost and efficiency of government then we can get that up at least one percentage point."
The ORG chief called for the Government to start by "hitting the mark" on the deficit and spending targets mandated by the Fiscal Responsibility Bill, and holding the entire public sector accountable for its actions - especially when it came to the spending and use of Bahamian taxpayer monies.
He added that ORG remains adamant there are "not enough teeth" in the Fiscal Responsibility Act to truly penalise infractions by ministers and officials - an assertion that the Government disputes.
"If we were to correct everything and really see this country move forward, in my opinion we're maybe 25 percent of the way there," Mr Myers told Tribune Business. "We've still got a lot of work to do. The real heavy lifting to address public sector costs and inefficiency has not been started, although they did implement the hiring freeze and spending cuts.
"Dealing with public sector accountability, cost and inefficiency has not been attempted at all. That's the 50,000 pound anchor in the canoe. If we're to get 5.5 percent GDP growth that's the piece to attack next. Any more increases in taxation and costs by anybody serves to slow the economy. We've got to back in and create more efficiency."
Mr Myers added that the size of government needed to be matched to what the Bahamian economy can bear, adding: "If we can lighten the load and the public sector drag, the economy will start moving.
"BPL would be the one place I would start, as well as the unfunded public sector pension liabilities and getting rid of loss-making state-owned enterprises (SOEs). There's hundreds of millions of dollars there, if not billions. That's the hard work. That's going to make the economy move because if the Government does that it's going to lower our costs."
While arguing that the Bahamian economy was performing much better than several years ago, especially in the tourism industry with 'double digit' stopover growth, Mr Myers acknowledged that too few were feeling the benefits.
"It's not as bad as it was two to three years ago," he added. "The economy is improving slowly, but it does take time for that to trickle down. We need to be at 5.5 percent, not 2-3 percent. GDP growth is what we need to deal with our fiscal woes and unemployment. At two percent something, you're not half-way there.
"Is it better than two years ago? Ye. Is it where we need to be? No. Even wealthy people are complaining about the cost of power now, and businesses are fuming. It's becoming prohibitive. The cost of electricity is ridiculous, and the quality of electricity is ridiculous. We blow up more equipment because of power problems and can't claim. It's not just the bills."