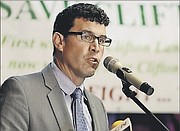 By NEIL HARTNELL
Tribune Business Editor
nhartnell@tribunemedia.net
The Government's Non-Profit Organisations Bill is too one-sided because it neglects the positive effects of the sector's growth for Bahamian society, a governance reformer argued yesterday.
Matt Aubry, the Organisation for Responsible Governance's (ORG) executive director, told Tribune Business that the bill needed to be amended so that the desire for regulation did not stifle Bahamas-based non-profits - especially the smaller ones - and force them to close their doors.
He added that the bill also needed to account for the environment in which Bahamian non-profits operated, pointing out that many donors - both corporate and individual - wanted legitimate confidentiality because they feared they would be bombarded with demands if their identities are disclosed.
Praising both Carl Bethel QC, the attorney general, and Civil Society Bahamas, the umbrella non-profit group, for leading the dialogue that resulted in the Non-Profits Organisation Bill's passage through Parliament being placed on temporary hold so that the sector can provide feedback by this Saturday, Mr Aubry backed calls for it to be combined with provisions from the Civil Society Organisations (CSOs) Bill that has been in circulation since 2015.
Acknowledging international concerns that charities can be abused by money launderers, tax evaders and terror financiers, the ORG executive director said Bahamian civil society groups had already recognised the need for local regulations to address the issue.
"Coming out of the civil society conclave in January, it came across that all the groups recognised we need regulations and standards," Mr Aubry told Tribune Business, "and to be taken seriously we need to step to that.
"There should be appropriate standards, oversight and accountability like any private sector industry and the Government. But it need not be to the detriment of the civil society sector. Civil Society Bahamas talked of the need for the sector to grow. This Bill only speaks to the side of how we keep them in check, and to do so in a way where Know Your Customer regulations are imposed."
Mr Aubry said the main concerns centred on small, "volunteer driven" non-profits and whether they will be able to cope with the increased costs and bureaucracy imposed by the Non-Profits Organisations Bill's enhanced reporting and record-keeping requirements.
The Non-Profit Organisations Bill requires all such organisations to be registered with the Registrar of the same name. To become registered, the legislation stipulates that all non-profit groups must show "evidence" that they are compliant with "Know Your Client" stipulations - meaning that they know the sources of their funding, and the background of these donors.
Non-profits with annual gross income above $75,000 will also be required by law to maintain financial statements, showing all income and spending, at their registered offices. They will have to submit "a declaration" that these are available and accurate to the registrar, who can require that these financial statements be produced to it.
And the Bill, in a section entitled "reportable donations", mandates that all non-profits provide the registrar with details on donations that exceed $50,000 - either in total or as a lump sum - and their ten largest contributors every two years. The information is to be kept private by the regulator.
"Many individual and corporate donors do so with a level of anonymity because they do not want to be overrun with requests from other groups," Mr Aubry explained, suggesting that this needed to be "respected".
He added that the sector had been given "no promises" by the Attorney General on whether any of their recommendations will be incorporated into the final legislation that is passed by Parliament, but Mr Bethel had been "very open to hearing our feedback".
Mr Aubry said civil society wanted to "ensure the Bill is more reflective of industry and the needs of the local non-profit sector, and added: "The hope is that it becomes a process that meets the Government's intent and requirements as well as those of civil society."
The Non-Profit Organisations Bill was created after the Financial Action Task Force (FATF), the body monitoring The Bahamas after uncovering "structural deficiencies" in its anti-money laundering/counter terror financing regime, put pressure on this nation to enhance regulation of non-profits in the belief it was weak or non-existent.