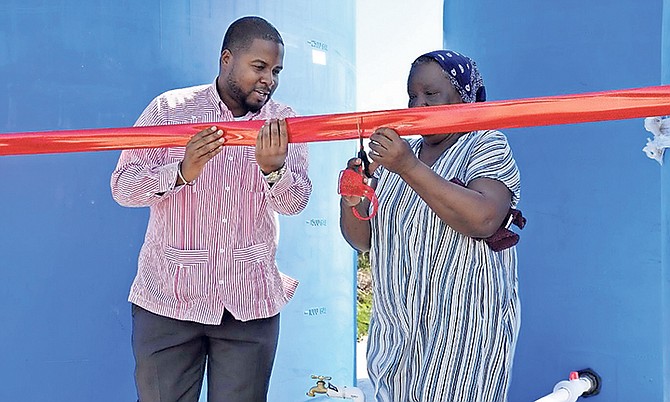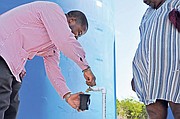 HUNDREDS of residents in remote settlements of Long Island now have access to potable water thanks to the government's South Long Island Water Supply initiative which extends the central water distribution system into the settlements.
Water and Sewerage Corporation officials, including executive chairman and Long Island MP Adrian Gibson, were on the island recently for the ceremony.
"In its continuing effort to provide potable water to all residents throughout The Bahamas, the government of The Bahamas, through the Water and Sewerage Corporation, and with the support of the CDB (Caribbean Development Bank) awarded the first contract to extend the central water distribution system southward from Turtle Cove to Clarence Town, and north from Grays to Salt Pond," a press release from WSC noted.
"At the conclusion of this project, some 45,000 feet of 4" PVC pipe and 15,000 feet of 2" PVC pipe would have been installed to service more than 200 additional customers, all of whom will be supplied by the existing reverse osmosis (R/O) water plant located in Deadman's Cay. These works are currently underway."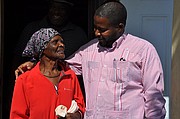 WSC said more populated regions of Long Island have also been identified for this project and it was further agreed to provide relief to residents north and south of the Simms settlement.
"Consequently, the existing distribution in Simms will be extended to Millerton in the North and Wemyss southward by some 37,000 feet of 4" and 31,000 feet of 2" PVC pipe to service some 180 additional customers. All of these residents will be serviced by the R/O plant located in Simms," WSC announced.
For residents in southern Long Island, there are initial efforts underway to bring them similar relief. Six "high density polyethylene plastic water tanks" each with a capacity of 5,000 imperial gallons were purchased and installed in several sparsely populated settlements south of Clarence Town to provide potable water service to these residents and added resilience during hurricane season when roads may be impassable, WSC noted.
Single stand-alone tanks are now installed in Roses, Mortimers and Berrys so customers in this region have access to potable water.
"In the interim these tanks effectively act as government stand-pipes which will be regularly filled by water tanker trucks. In the longer term, individual metering systems will be implemented for full accountability.
"The settlement of Dunmore was found to be in a favourable location with elevation such that customers could receive water direct to their homes through gravity feed. It was therefore decided to install a local distribution system network consisting of some 1,000 feet of 2" PVC pipe such that customers could receive potable water from the total 15,000-gallon storage located at this site. All tanks will be securely anchored to the base and will be regularly serviced with tanked potable water. Ten connections have already been installed and residents now have running water in their homes. These types of systems greatly assist in reaching smaller separated communities."
WSC said eventually a small pumping station will be installed to improve pressure and so that the distribution system could be extended to pick up additional customers.
"As a result of these efforts, over 200 residents now have access to potable water," WSC said.
Work is also planned for other Family Islands, including Crooked Island, North Eleuthera, Acklins and San Salvador.
"The corporation plans to duplicate what it hopes will be a prototype system where small water supply tanks will be established in smaller communities similar to Dunmore, Long Island."
WSC plans to hold a press tour to review ongoing works to extend the North Eleuthera reverse osmosis plant, which will be the third largest plant in the Bahamas. This extension will provide potable water to all of North Eleuthera, Spanish Wells and Harbour Island.
In early 2019, a commissioning ceremony will be scheduled for the San Salvador Water Supply Extension Project, Mr Gibson said.