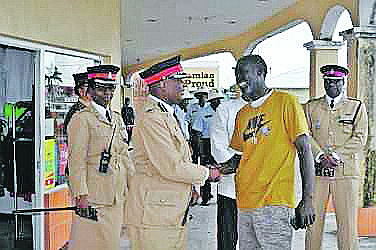 By Denise Maycock
Tribune Freeport Reporter
dmaycock@tribunemedia.net
POLICE visibility has been beefed up on Grand Bahama, particularly in the main shopping areas throughout the island for the Christmas holidays.
Officers on foot patrols have been seen throughout downtown Freeport, the Seahorse Shopping Plaza in Lucaya, and at the Port Lucaya Marketplace on Friday as residents conduct their Christmas shopping.
Supt Walter Henderson and Supt Hylton Cash were among those officers in the downtown area conducting a walkabout.
Supt Henderson said police want the public to feel safe as they make their Christmas purchases.
"During this Christmas season, we realise it is important for the police, especially the uniform sector, to be visible so that the public can feel safe to move about in comfort and ease," he said.
Supt Henderson noted that the prevention of crime is their main objective. He encouraged residents to heed safety tips that were recently released by the police on the radio, television, and in the newspapers.
"We encourage persons to be safe; do not let their guard down even though you want to be enjoying the festive season," he warned.
He noted that most crimes are crimes of opportunity and individuals should pay special attention to their surroundings.
Supt Henderson said it is important to keep items safe by storing them in the trunk of their vehicle.
"When buying gifts, do not leave them exposed in your vehicle and pay close attention to who may be watching you," he said.
Another tip, he added, is to avoid dark areas by parking in well-lit areas when shopping at night.
"Perpetrators who have the mindset of committing an offence may be hiding and waiting for you. You also want to travel in numbers because there is safety in numbers."
In addition to foot patrols, Supt Henderson said uniformed officers are also conducting mobile patrols throughout the island.
"Our plainclothed officers are out there as well," he said.