By NATARIO McKENZIE
Tribune Business Reporter
nmckenzie@tribunemedia.net
The Government will likely select a preferred bidder for Nassau's cruise port within the first two months of 2019, a Cabinet minister has confirmed, with tomorrow's deadline proving unrealistic.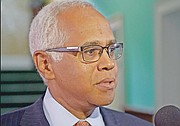 Dionisio D'Aguilar, pictured, minister of tourism and aviation, said: "The RFP (Request for Proposal) gave us 21 days following the December 7 deadline to select a preferred bidder. That meant that by December 28 we would be in a position to make a decision.
"That is clearly not happening. That date as been pushed back. The proposals have to be circulated. What we found, for instance, was that a lot of people were on vacation."
The three bids were submitted to the Government on December 7, and opened on December 11. Providence Advisors (representing Nassau Port Partners); Cruise Ports International, an alliance between a Bahamian consortium and four major cruise lines; and Global Ports Holding, the world's largest cruise port operator, are the three contenders.
"We have decided to circulate the proposals to those that would be evaluating them, and to come back in the beginning of the year to begin in earnest the review. Then it will be taken to Cabinet, and we hope to have that sorted out within the first two months of next year," Mr D'Aguilar reiterated.
"If we decide to pick any of them - because we reserve the right to throw all of them out - we will probably know that in the first two months of next year. We note all the noise in the marketplace, but there is a complete radio silence from this government. Until the process is complete we have no comment on any of the proposals. We will let the process take it's course and, when we have something to report, we will say so."
According to the RFP, the Government is "interested in the redevelopment and privatisation of the operation of the cruise port terminal at Prince George Wharf" with the physical real estate to remain in its ownership much like the Nassau Airport Development Company (NAD) model for Lynden Pindling International Airport (LPIA).
"Currently the port of Nassau receives over 3.5m annual guests from a variety of cruise companies," the RFP said. "The Government has determined that it is beneficial to attract an experienced entity to invest and operate this important asset to bring needed capital investment to grow the port of Nassau with anticipated business.
"As part of the response to this RFP, bidders should present a comprehensive vision for the port of Nassau, its essential role within downtown Nassau, together with a proposed business plan and financial analysis (to be finalised by relevant bidder after selection) and indicating evidence of funding for a project of such importance.