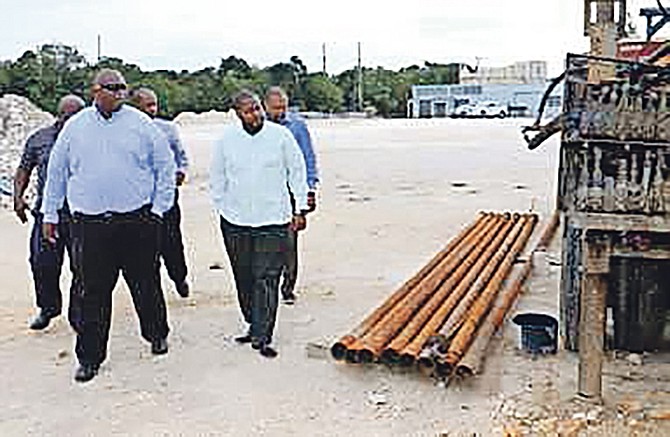 By KATHRYN CAMPBELL
RELIEF is on the way for the water woes of approximately 5,000 residents of North Eleuthera. A major upgrade is presently underway to the water supply in that district that will bring relief to complaints of no water, salt water, low pressure and brown odorous water.
Adrian Gibson, Water and Sewerage Corporation executive chairman, led a small delegation to North Eleuthera on December 21 to inspect a new salt water reverse osmosis plant that is presently being constructed on the island.
The team included Elwood Donaldson, general manager; Cyprian Gibson, assistant general manager and Thomas Desmangles, distribution operations manager.
"We are trying to give the residents of North Eleuthera decent water," said Mr Gibson. "We have had some issues with water here over the last few years, either brown or not having the best taste.
"What you are seeing here is construction of a brand new 600,000 gallons reverse osmosis plant. That plant will be expandable up to two million gallons if, and when, the economy of North Eleuthera grows.
"We think it is necessary. Eleuthera has a booming economy. A new airport is forecasted to come on stream. We expect more investment to come to Eleuthera so why not make that investment on the water side and ensure that headaches with respect to water are all solved."
Suez Aqua Design Bahamas Ltd, a water technology and solutions company, has been awarded a contract for approximately $2m to construct the plant.
Work on the project, including a 300 feet disposal well, has already begun and is expected to be completed in April 2019. Ten to 15 local residents of Eleuthera will be employed to carry out the work.
Residents in Spanish Wells, Harbour Island and Russell Island will benefit from the new reverse osmosis plant.
"The locals will get quality water and the investors that come to Eleuthera will have no water concerns," said Mr Gibson.