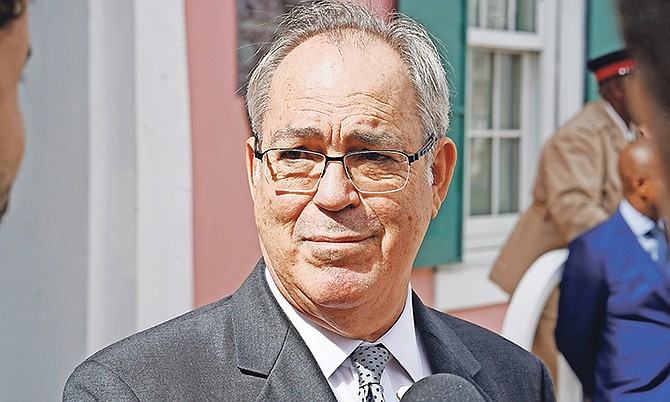 By AVA TURNQUEST
Tribune Chief Reporter
aturnquest@tribunemedia.net
AS HE confirmed plans to speedily facilitate Bahamas-born deportee Jean Rony Jean-Charles' return to the country, Minister of Immigration Brent Symonette yesterday said his case will bring the longstanding issue of fraudulent documentation to the forefront.
Mr Symonette made clear he was not seeking to establish the fraud issue as relevant to Mr Jean-Charles' matter, or speaking directly to his case because he had not yet reviewed the matter fully.
However, he said there was an "overriding provision" that being born in the country did not mandate automatic citizenship, and noted Mr Jean-Charles had never applied for citizenship previously.
Mr Symonette pointed to draft regulations for the Carmichael Road Detention Centre and foreshadowed amendments to the Immigration Act during an interview outside the House of Assembly yesterday. "No," Mr Symonette when asked whether the ruling signalled imminent changes to deportation practices.
"Persons born here, as I've said, should not normally be deported, that is a fair comment. I'm not commenting on what happened in the court case because I have not followed it. One thing that is very certain is there are a number of, and I'm not saying this relating to this particular case, there are numerous cases of fraudulent documentation.
"So the (Jean) Rony Charles case will bring the issue to the forefront. As you've heard the attorney general say, there are certain regulations, new amendments to the rules being drawn up which will put in proper perspective the detention centre etc," he added.
"But there is still an overriding provision that persons have got to realise, is the mere fact that you are born in the Bahamas does not automatically make you Bahamian. There has to be an application for those persons who were born in the Bahamas to non-nationals to apply to the government for status, and that's an overarching issue that cannot be avoided.
"So upon his return if he has not already done so, Mr Jean-Charles will have to apply to be registered as a citizen of the Bahamas, which according to our files he has not done."
Attorney General Carl Bethel yesterday confirmed the government plans to "fully appeal" Supreme Court Justice Gregory Hilton's Tuesday ruling, which ordered the government immediately issue a travel document for Mr Jean-Charles and reimburse him for his travel back to the country, declaring that his rights under the Constitution have been breached.
Justice Hilton furthered that Mr Jean-Charles, upon making an application, be issued legal status no later than 60 days after his return.
The ruling stemmed from a habeas corpus application made on behalf of Mr Jean-Charles, who had been detained at the CRDC for some three months before his expulsion from the country.
Justice Hilton is expected to deliver his ruling on six more habeas corpus applications on February 8, part of more than 15 separate cases challenging the lawfulness of detentions at the CRDC and the immigration safe house for women and children.
Yesterday, former Minister of Immigration Fred Mitchell called for the government to appeal the judgement up to the highest level, the Privy Council.
He suggested the Privy Council should be asked to determine whether the courts can substitute their decision for the Immigration Department, as opposed to remitting the matter to the executive branch of government for reconsideration according to law.
In a statement yesterday, Mr Mitchell advised the current decision should be stayed pending appeal.