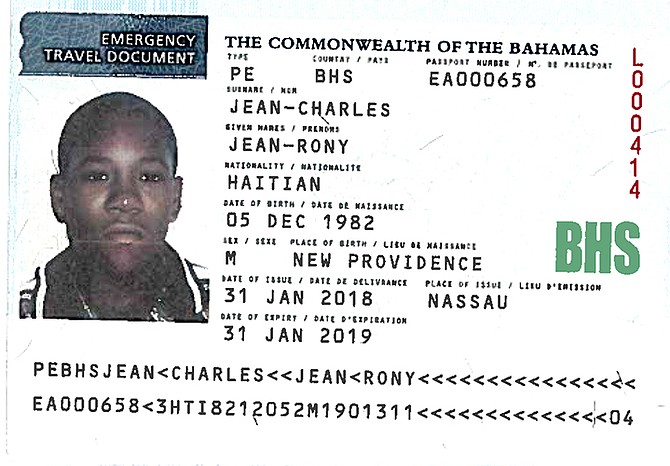 By AVA TURNQUEST
Tribune Chief Reporter
aturnquest@tribunemedia.net
THE Passport Office has issued an emergency travel document valid for one year for Bahamas-born deportee Jean Rony Jean-Charles.
The document was issued on January 31, and lists the 35 year old as a Haitian national, according to the copy obtained by The Tribune.
The embedded picture appears to be Mr Jean-Charles as a minor, which invokes claims made by relatives that he had obtained several travel documents before his most recent one was destroyed by fire in 2016.
Attorney Fred Smith told The Tribune he plans to protest his client's identification as a Haitian national in court, noting his receipt of the document was not to be regarded as an acceptance of that status.
Yesterday, Prime Minister Dr Hubert Minnis told the press he had not seen a recent court ruling regarding Mr Jean-Charles' case, and could not make a comment.
"I must read a ruling in its entirety," Dr Minnis said. "The entire ruling would be studied, looked at, and we will make decisions that's in the best interest of the Bahamas."
He continued: "I have not seen the complete ruling so I cannot make a comment. Believe me, our attorneys and others are reviewing the ruling in its entirety."
Attorney General Carl Bethel told The Tribune yesterday the government intends to file its appeal of Supreme Court Justice Gregory Hilton's ruling today.
Mr Jean-Charles' lawyer, Fred Smith believes the landmark Supreme Court ruling paves the way for people born in the Bahamas to non-nationals to seek protection from unlawful expulsion.
He renewed his call yesterday for the government to begin the process of adhering to the principles established by Justice Hilton's ruling, foreshadowing "mega class action".
"I welcome any appeal by the government," Mr Smith said, "the sooner that the appellate court all the way to the Privy Council adjudicates on these illegal and unconstitutional expulsion, the sooner the Bahamas will become a nation governed by law rather than ministerial dictate. Mr Damian Gomez and I and the rest of the legal team are anxious to have the appeals heard, as long as in the meantime all other aspects of the judgment are respected. 
"In particular," Mr Smith continued, "that when Mr Jean-Rony returns to his birthplace, his right to work and to enjoy all of his constitutional and civil rights are not tampered with. 
"I urge the government to bring back every person that has been unlawfully expelled in breach of the Constitution and the Immigration Act. I beg them not to wait for a mega class action, by thousands who are in forced exile from their homeland, before they take action to respect the Constitution."
Meanwhile, on Wednesday human rights group Amnesty International called on the government to immediately implement the decision of its Supreme Court, and stop discriminatory practices against people of Haitian descent.
"This judgement sets an important precedent for the Bahamas and sends a clear message to the wider region about states' obligations to guarantee the right to nationality and non-discrimination in line with international law," said Erika Guevara Rosas, Americas director at Amnesty International.
"The Bahamian authorities must align deportation processes with international standards, which include screening processes to avoid expulsion of individuals born in the Bahamas. We have repeatedly sought to engage with the Bahamian authorities to constructively dialogue about their human rights challenges, and remain willing do so," she said. 
A deportation list for November 24 was filed by the Immigration Department in habeas corpus application hearings in the Supreme Court, which confirmed at least five people born in the Bahamas were deported with Mr Jean-Charles.
Mr Jean-Charles was detained at the Carmichael Road Detention Centre for three months before he was expelled from the country to Haiti on November 24, 2017. 
In his judgment this week, Justice Hilton ordered the government to immediately issue a travel document for Mr Jean-Charles and reimburse him for his travel back to the country, declaring that his rights under the Constitution have been breached.
Justice Hilton said that Mr Jean-Charles, upon making an application, must be issued legal status no later than 60 days after his return.
In addressing Mr Jean-Charles' arrest and detention, Justice Hilton noted that while Article 19 of the Constitution recognises the power of the state to detain and expel non-nationals, it must be done "within the four corners of the law".
He further stated any detention not authorised by law would be a "breach of the individual's constitutional rights; and entitles that person to compensation under Articles 19 (4)."
Based on section 18 of the Criminal Procedure Code, Justice Hilton stated if an individual is apprehended by immigration officers for allegedly committing an offence, that individual cannot be detained for more than 48 hours before being charged and taken before a magistrate.
Over the past year, The Tribune has reported on the unconditional release of more than a dozen migrants – some of whom were referred to by state officials as "long term detainees", with detention times ranging between two to six years.
In some cases, migrants were released before court proceedings had begun.
In July, four migrants were released after being held for more than two years despite having received refugee status by the United Nations High Commissioner for Refugees.
Justice Hilton is expected to deliver his ruling on six more habeas corpus applications on February 8, part of more than 15 separate cases challenging the lawfulness of detentions at the CRDC and the immigration safe house for women and children.