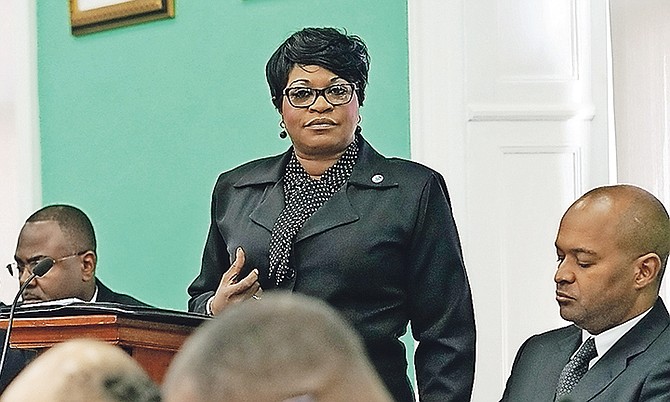 By KHRISNA RUSSELL
Deputy Chief Reporter
krussell@tribunemedia.net
A WOMEN'S rights activist yesterday called for the resignation of MICAL MP Miriam Emmanuel after she insinuated there is nothing wrong if a woman is "manhandled" by her husband who might also decide to "slap," "shake," or "punch" her in the mouth as punishment for challenging him.
Donna Nicolls, deputy director of the Bahamas Crisis Centre called the situation "crazy," adding the comments Mrs Emmanuel made in Parliament yesterday reverted this country to the "Dark Ages".
However, as the comments drew fierce condemnation in many circles and on social media, Mrs Emmanuel issued a statement saying she regretted making the "unfortunate analogy," claiming the comments were taken out of context and misunderstood.
Hours before she realised the comments were unfortunate, Mrs Emmanuel suggested in the House of Assembly she had no issues with physical abuse, if it was justified by the actions of a woman who wants to "come up" in her husband's face and behave like she is a man.
The comments seemed not to trouble seated MPs – some could be heard snickering as she made her remarks.
"I am the seventh of 10 daughters and I recall as we began to mature and take on marriage and family, one of the things that my father often say to us as his daughters, if you want to remain a lady, if you want to remain treated as a lady, then you must behave like a lady," the first time MP said yesterday.
"And he said if there ever comes a time when you have to come back to this house and say to me as your father that your husband shook you, or give you a slap or punch you in your mouth, I will analyse while I listen to you. I will analyse the consequences that would have caused your husband to probably shake you, slap you or punch you in your mouth."
Mrs Emmanuel continued: "And I said simply what my father was saying that we are to respect each other, have respect for your priest, your provider and your protector. So in this honourable House it's no exception from a marriage relationship if you as a woman want to come up in your husband's face and behave like you are a man, my father said then you will get manhandled."
Her comments came during a moment in the House of Assembly where Speaker Halson Moultrie welcomed remarks from parliamentarians in response to disciplinary actions he took against Englerston MP Glenys Hanna Martin, who he named and suspended last week.
Yesterday, Mrs Hanna-Martin, as well as the remaining three opposition members in the House, were suspended for two sittings.
Asked whether Mrs Emmanuel's comments were obvious grounds for a resignation, Mrs Nicolls told this newspaper: "Yes, because you see the thing about it, I think that what they don't understand is that when they are sitting in Parliament they represent everybody.
"Our Constitution talks about everybody in the Bahamas not only the people who look like you, talk like you, believe that you believe. You (are) representing everyone in the Bahamas. This is just crazy."
Mrs Emmanuel's statement read: "I made certain statements in the House of Assembly in support of respect for authority, which were taken totally out of context and misunderstood. While I will not repeat this unfortunate analogy, I want the record to reflect that I, Miriam Reckley-Emmanuel MP MICAL, do not condone domestic violence or any type of violence in any way shape or form. I deeply regret those words and I want all women in this country to know and understand that I am an advocate for and stand firm in support of women's rights.
"I was personally appalled by and condemned the comments made some time back in the House of Assembly by former Member of Parliament for Tall Pines Leslie Miller, about hitting his female companion while female members of the PLP laughed. My comments in the (House) should in no way convey that I believe it is ok to hit a woman." 
It was just in December when the backbench MP told The Tribune she supported criminalising spousal sexual abuse adding that it was absolutely wrong for any man to "dominate" or "harass" his significant other to satisfy his flesh.
Yesterday Seabreeze MP Lanisha Rolle also weighed in on the matter involving Mrs Hanna Martin, with an undertone that men are to dominate women.
"Mr Speaker, my husband always told me what a man say from the beginning, he say what he say and he mean what he say. If you want to turn it another way that's your business."
Mrs Rolle, minister of social services and urban development, added that she was the lead voice on women's affairs in Parliament.
The irony in this aspect of her comments is that at the height of the marital rape debate in December, it was Mrs Rolle who categorised the issue as a private matter between husband and wife. This remark drew criticism from women's rights activists, who questioned her fitness for the role.