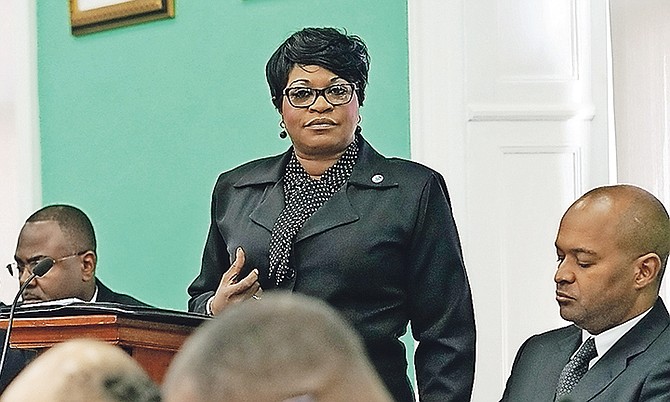 MICAL MP Miriam Emmanuel in the House of Assembly. File Photo: Terrel W Carey/Tribune staff
Stories this photo appears in:

This past week we witnessed an MP flub her budget contribution magnificently, got a look at Minnis' legacy projects and were treated to the...um...low hanging fruit that is parliamentary humour.

MICAL MP Miriam Emmanuel has been the talk of the town since her inability to read a seven-figure number in Parliament last week.

MICAL MP Miriam Emmanuel's parliamentary mishap last week has unearthed deeper concerns over her competency at the helm of the Education Loan Authority (ELA) and the effectiveness of political appointees.

HEALTH Minister Dr Duane Sands yesterday defended MICAL MP Miriam Emmanuel amid criticism following a recent verbal blunder she had in the House of Assembly, calling the public commentary surrounding the ordeal "unacceptable bullying."

NEARLY five hundred borrowers have paid off student loans from the Education Loan Authority through the government's student loan repayment incentive programme, which was established in February 2016.However, MICAL MP Miriam Emmanuel, ELA chairwoman,

DESPITE Attorney General Carl Bethel's declaration that the country has zero tolerance when it comes to domestic abuse, another human rights group urged Prime Minister Dr Hubert Minnis to distance himself from MP Miriam Emmanuel's comments and clearly state the country's position when it comes to gender-based violence, discrimination and inequality.

AS HE denounced MICAL MP Miriam Emmanuel's "ill-advised" comments yesterday, Attorney General Carl Bethel said no form of domestic violence is tolerated by Bahamian law, adding the country is beyond the days of patrimonial control of the family.

A WOMEN'S rights activist yesterday called for the resignation of MICAL MP Miriam Emmanuel after she insinuated there is nothing wrong if a woman is "manhandled" by her husband who might also decide to "slap," "shake," or "punch" her in the mouth as punishment for challenging him.