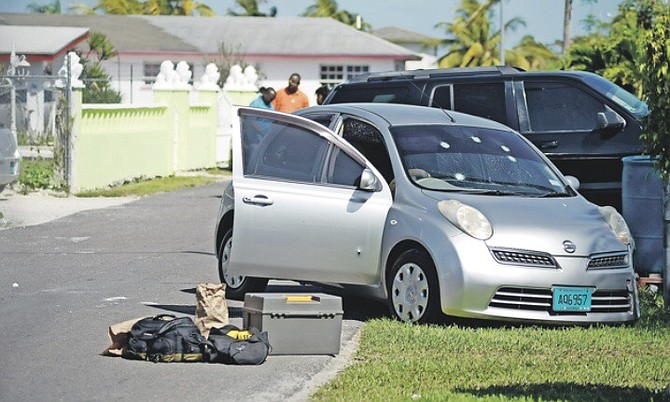 By RICARDO WELLS
Tribune Staff Reporter
rwells@tribunemedia.net
POLICE shot and killed a man suspected of perpetrating a drug deal after he opened fire on officers attempting to apprehend him just off Cedar Way, near Carmichael Road, yesterday.
According to Assistant Commissioner of Police Clayton Fernander, officers acting on information responded to the area just after 11am.
ACP Fernander, pictured below, said officers noticed the deceased allegedly carrying out a drug deal.
He said it was at this time, upon noticing police, the suspect engaged officers in a gunfire and was then fatally shot.
ACP Fernander added: "On examination of the vehicle, a weapon was recovered. Also, a kilo of suspected cocaine was also recovered from the scene. The deputy coroner visited and she was briefed, and the matter is now before the Coroner's Court."
ACP Fernander also said the area has been under increased police surveillance in recent weeks, including during the Royal Bahamas Police Force's "Operation: Blue Water", carried out last month.
During that operation, police, representatives from Operation Bahamas and Turks and Caicos (OPBAT) and a tactical unit from the United States' Drug Enforcement Administration (DEA) spread teams and resources across the sky and streets of several hotspots in the Carmichael Road area.
During the operation, OPBAT helicopters hovered
over homes for nearly two hours, directing search lights to the ground while officers swept through communities acting on intelligence.
Police arrested about 30 people, while recovering stolen property, a number of flare guns, shotgun shells and at least two vehicles believed to be stolen in the United States and transported to the Bahamas.
Referring to the operation yesterday, ACP Fernander said: "I just want to highlight that a few weeks ago you noticed that we had an operation in this general southwestern area, this was one of the targeted areas. You saw the choppers were around."
He added: "So we are intelligence driven and based on intel, these are the kinds of results that you are seeing that we are getting today."
The deceased in yesterday's incident, reportedly a resident of the area and in his 30s, is the fifth person killed by police this year and the tenth since November 2017.
Last month, a man who residents say was blind, was shot and killed by police, prompting an angry confrontation between residents and police in the Plantol Street and East Street area where the shooting occurred.
Police said they responded to reports of gunshots in the area, and when they responded they encountered two men on a motorbike; one of them aimed a firearm in the direction of officers.
However, police could not say whether the man who was shot and killed was the one who brandished the weapon. There was no report that a weapon was recovered from the scene.
According to The Tribune's records, 11 people were killed in police-involved shootings last year.