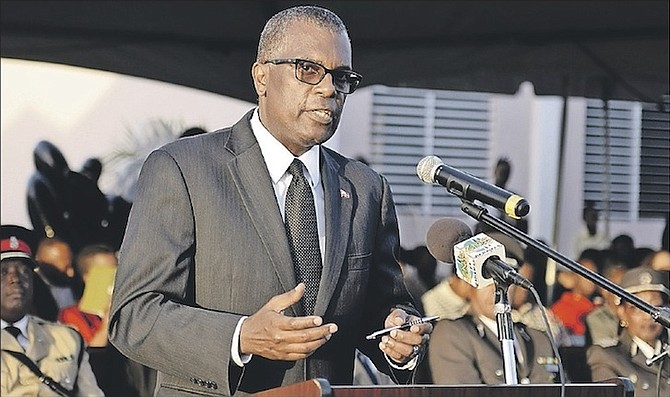 By KHRISNA RUSSELL
Deputy Chief Reporter
krussell@tribunemedia.net
HOUSE Speaker Halson Moultrie's recent comments in Parliament have drawn the ire of opposition Senator Fred Mitchell, who accused the Speaker of committing a "blood libel" against him, adding he would seek "adequate compensation" for this grave injustice.
Claiming that Mr Moultrie's swipe at him put "enmity" between their houses, Mr Mitchell said he would use all of his energy to pursue the matter.
The Speaker, Mr Mitchell also said, was too "dumb and thin skinned" to understand that public figures are often subject to attacks.
Last week in the House of Assembly, during what some have described as a "bizarre" presentation, Mr Moultrie accused Progressive Liberal Party Leader Philip Davis of taking advice from reprobates and perverts, a seeming jab at Mr Mitchell. He also targeted the nationality of Mr Davis' wife and launched a scathing attack at former House clerk Maurice Tynes, who had criticised some of the Speaker's decisions.
In an apparent reference to the senator, Mr Moultrie said: "Member for Cat Island, Rum Cay and San Salvador, he is fully aware of past encounters with myself, that I do not have a track record of hating women. You know, the member and I have a mutual best friend and if the member had consulted our best friend on this matter I'm sure he would've been advised to leave that path and to leave this matter alone. Notwithstanding, the member has allowed in my estimation reprobates and perverts with track records of denying and hating women to insert such a ludicrous assertion into his press release.
"My name might begin with 'M' but the first three letters are Mou and not Mit. Don't mix me up. I am not a soft powder puff man. I am a real man."
These comments at Parliament were in response to Mr Davis questioning whether misogyny played some part in Mr Moultrie naming and suspending Englerston MP Glenys Hanna Martin from the House.
Mr Mitchell said when Mr Davis made these comments he was not calling the Speaker a homosexual. He said all of this became a problem because of fundamental "dumbness" on the Speaker's part.
"So we are in the belly of the beast," Mr Mitchell said as he addressed PLP supporters at a rally in the Speaker's constituency – Nassau Village – on Thursday night.
"I am saying here tonight in his constituency that he owes all of us the leader, the leader's wife me, (former parliamentary clerk) Mr Maurice Tynes and the staff of the House of Assembly a complete and unqualified withdrawal and apology of all those hateful remarks without conditions, no conditions. This is not subject to negotiation, a complete and unqualified apology and withdrawal.
"I am not joking. The attack was personal on me. I have told everyone that I reserve the right when someone attacks me personally to go at you, ya ma, ya wife and ya children.
"I am not joking. This is the second time I have had to say this in my public life and I said this to another public figure in the Free National Movement who serves in the government today and he may think I forgot it, but I haven't forgotten it.
"And I say this to the Speaker, you have committed a blood libel against me. You put enmity between my house and your house to the end of my days, I want you to know it," Mr Mitchell continued.
"I will not relent and I will use all of my energies to seek adequate compensation for this libel. And when I am gone I promise you my nephews, my nieces, my brothers, my sisters, my family, all of them will be pursuing the redress in my name for this grave injustice. You can take that to the bank and cash it."
Mr Mitchell said what transpired in the House of Assembly last Wednesday was proof the FNM and its leadership were unfit to govern the country.
"Who asked him whether he was a powder puff or whether he was soft. Who asked him that? No one as far as I was aware. He put his own character into question when he put that information into the public domain. Presumably a man who claims he is a text book husband and a lover for 30 years presumably his wife is aware that he is not soft or a powder puff.
"You, Mr Speaker, fail to remember that amongst your FNM colleagues there are many of them who would be offended because in their own lives when they were growing up people called them powder puffs and soft. I saw some of them banging on the tables in the House of Assembly and laughing, I could call the names. Someone sent me a list and I don't know the origins of the list and I am sure I'm not the only one who has the list, but I am not going to go there tonight. But I got the list and I can call the names. Dig one grave and dig two.
"And then, Mr Speaker, you claim that you are a real man, I don't care who asked you to declare that either, that is a sure sign of mental instability when you question your own gender identity," Mr Mitchell said.