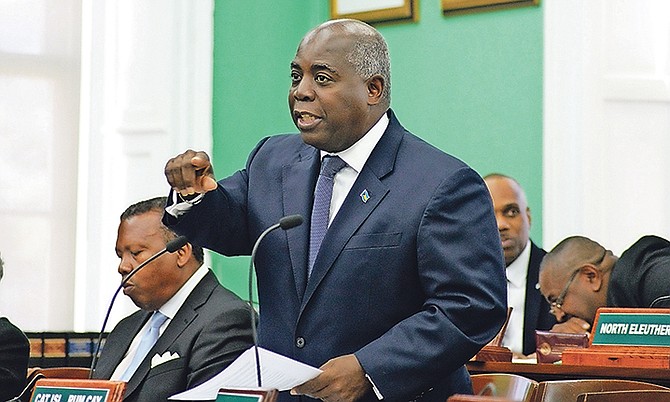 By KHRISNA RUSSELL
Deputy Chief Reporter
krussell@tribunemedia.net
IN letter sent to the House of Assembly, Official Opposition Leader Philip "Brave" Davis served notice of his or another minority member's intention to move a vote of no confidence in the chair, days after the entire opposition was suspended from the House of Assembly.
The notice was sent to Acting Chief Clerk in the House of Assembly David Forbes on Friday amid continued fallout over Speaker Halson Moultrie's disciplinary action on the Progressive Liberal Party, which started with the naming and suspension of Englerston MP Glenys Hanna Martin two weeks ago.
The remaining three members of the Official Opposition were suspended last Wednesday for two sittings.
In his letter, Mr Davis asked for clarity on when the suspended members will be allowed back in the lower chamber, at which point he said the resolution will be moved in the House.
The Progressive Liberal Party has also encouraged all members, supporters and persons of goodwill to attend Parliament and assemble in Rawson Square for debate of the proposed resolution of no confidence.
A party source said the suspended members may come to the House of Assembly today.
Last week, Mrs Hanna Martin attempted to enter Parliament despite her suspension, but was barred from doing so.
Asked about the no confidence vote yesterday, Prime Minister Dr Hubert Minnis would only say that the opposition was entitled to do whatever it wanted, adding the matter was expected to be addressed during a parliamentary caucus meeting yesterday afternoon.
However, behind the scenes senior Free National Movement (FNM) officials have spoken to the Speaker Moultrie about his conduct, The Tribune understands. There have also been attempts behind the scenes to broker a truce between the two sides, according to two sources.
"Enclosed herewith is a notice of my intention or for a member of the opposition to move a no confidence vote in the Chair/Speaker Halson Moultrie as he is not fit to hold that position," Mr Davis' February 9 letter noted.
"Pursuant to Rule 52 of the Rules of the House, this motion is to take the precedence of all business of the next sitting in which we will be allowed to attend following our unlawful suspension.
"Grateful if you were to advise of, to maintain decorum, the next sitting that opposition members will be permitted to attend.
"Take notice that the resolution following will be moved in the House of Assembly at its next sitting, at which members of the Opposition will be permitted to attend:
"Be it resolved that this House has no confidence in Halson Moultrie as Chair/Speaker of this honourable House because he is inadequate in many respects, has failed to carry out his obligations as chair/speaker (and) has made decision detrimental to parliamentary democracy."
It is unclear whether the speaker responded to this notice. He could not be reached yesterday.
Mr Moultrie suspended the Cat Island, Rum Cay and San Salvador MP, Exuma and Ragged Island MP Chester Cooper and South Andros and Mangrove Cay MP Picewell Forbes during last week's sitting.
The three male MPs were suspended after leaving the lower chamber as the speaker was making a presentation explaining the disciplinary action he took against Mrs Hanna Martin.
Ahead of this and in a surprising and unusual speech from the chair, Mr Moultrie launched personal attacks against members of the Progressive Liberal Party while defending his decision to suspend Mrs Hanna Martin last week.
Among other things, Mr Moultrie took a swipe at the foreign-born status of Mr Davis' wife. And in an apparent dig at PLP Chairman Fred Mitchell, he accused Mr Davis of taking advice from "reprobates" and "perverts".
Mr Moultrie also lashed out at retired parliamentary clerk Maurice Tynes.
At a press conference called not long after the House of Assembly adjourned last week, PLP officials described the speaker's conduct as bizarre and shocking. Mr Davis called him a "bullying buffoon," "unprincipled" and "disgraceful".
Mr Mitchell said he was not troubled by Mr Moultrie's references to him, but is "happy" to meet him "in the street" if the latter desired.
Last night, Mrs Hanna Martin said she would not return to the House tomorrow in solidarity with her colleagues. All four members of the Opposition intend to return on February 14, at which time the no confidence motion will be moved.
Yesterday, former PLP Chairman Bradley Roberts said the speaker's tirade was inexcusable and un-parliamentary in nature.
As he too made a case regarding Mr Moultrie being unfit for the post, Mr Roberts said the Nassau Village MP must be removed in the interest of protecting the integrity of the Office of the Speaker.
He questioned how any opposition member was expected to function in Parliament under Mr Moultrie's rule and in light of the egregious comments.
Mr Roberts said it was clear the speaker crossed the line of acceptable parliamentary behaviour and should be removed as atonement for his actions.