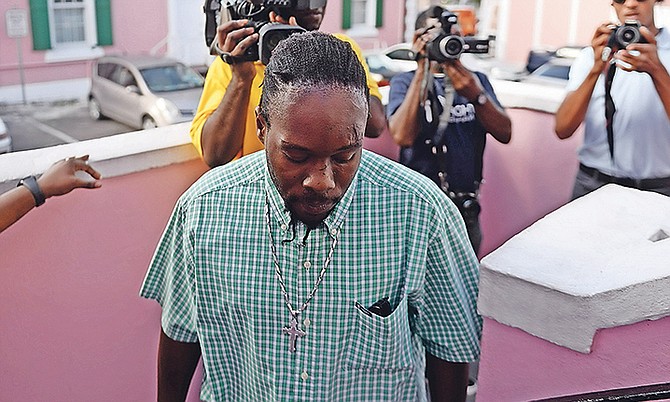 By NICO SCAVELLA
Tribune Staff Reporter
nscavella@tribunemedia.net
BAHAMAS-born Jean Rony Jean-Charles will seek over $1m in damages from the government over his unlawful arrest, detainment and subsequent deportation to Haiti last year, his lead attorney said yesterday.
Fred Smith, QC, told Supreme Court Justice Gregory Hilton his client would be seeking "more than $1m" in restitution for what happened to him between September and November of last year, and that such a substantive figure would teach the government to act in accordance with the law.
However, Mr Smith stressed to reporters that in making the figure known, he was not seeking to interfere with Justice Hilton's assessment on damages for his client.
To justify the rationale for seeking the hefty sum, Mr Smith referred to the previous court decisions on the unlawful arrests and detention of both Harvey Tynes, QC, and Tamara Merson, which he said saw both individuals receive over a quarter of a million dollars in damages.
However, Mr Smith said Mr Tynes was in jail for some 17 hours, while Ms Merson was imprisoned for three days, as opposed to Mr Jean-Charles who was detained at the Carmichael Road Detention Centre (CDRC) for over two months.
"So whilst I am not seeking to influence the judge's assessment on damages, I was simply in that article referring to the other cases which would be in comparison, he would be entitled to substantial damages," the senior attorney said, referring to a previous article in The Nassau Guardian which quoted him as saying his client would be seeking "substantial damages" because of the whole ordeal.
Mr Smith's comments came after a hearing over the government's application to stay Justice Hilton's landmark ruling on January 30, in which the judge found that Mr Jean-Charles was "unlawfully expelled" from the Bahamas after having been detained at the CRDC from September 18 to November 24, 2017 in breach of his rights guaranteed under Article 25(1) of the Constitution.
Justice Hilton also ordered the government to immediately issue a travel document to allow Mr Jean-Charles to return from Haiti to the Bahamas at the government's expense and to grant him "such status" that would "permit him to remain in the Bahamas and to legally seek gainful employment" no later than 60 days after his return.
The government subsequently appealed that decision, and an emergency stay was subsequently issued by Justice Hilton while Mr Jean-Charles was in the air travelling back to the Bahamas from Haiti. Attorney General Carl Bethel said at the time he requested the stay upon learning that Mr Jean-Charles' landing was imminent. Upon his return to the country, Mr Jean-Charles was apprehended by immigration officials and carted off to the CRDC. He has since been released.
Yesterday, attorney for the Crown Loren Klein submitted in his side's support of the stay application that the government would suffer a "substantial prejudice" if the stay is not granted, and that the Crown would be further prejudiced if Justice Hilton's judgment is not allowed to be scrutinised by the Court of Appeal.
Conversely, Mr Klein submitted that Mr Jean-Charles would suffer no real prejudice from the stay application, particularly as the Crown has promised not to arrest, charge, detain, or expel or interfere with Mr Jean-Charles pending the appeal.
Mr Klein also indicated that the Crown would be objecting to the affidavits filed on Mr Jean-Charles' behalf by his sister Clotilde Jean-Charles, attorney Crispin Hall and another individual on the grounds that they contain "scandalous" information and that one or more of them is irrelevant.
In response, Mr Smith said the Crown failed to address the merits of Justice Hilton's judgment, and that his submissions were filled with "technical" and "procedural" arguments. Mr Smith further charged that Mr Klein did not address the "wholesale breach" of his client's rights.
Mr Smith also dismissed suggestions that Mr Jean-Charles' matter will open the "floodgates" for future court actions concerning similar immigration issues, stating that while it does set a precedent, it would not have any bearing on any future and/or potential actions of a similar nature, as potential claimants would still have to launch and present their own cases.
After hearing submissions from both sides, Justice Hilton indicated that he would make a determination on the matter by Friday at 10am, subsequent to him reviewing the oral and written submissions by counsel as well as the transcripts for the various proceedings on the matter.
After yesterday's hearing, Mr Bethel who was present in the courtroom, told reporters that the Crown is "satisfied" that the stay it applied for ought to be granted.
However, when asked what the government would do if the stay is not granted, Mr Bethel said: "I don't do speculative law. I deal with everything as it comes. We have, as I've indicated, made our application for the full stay for which we applied Friday, and we will continue to press on regardless. When the court makes its ruling, we'll see what happens then. I'm not going to guess. But we will be resolved to pursue a clean appeal to the Court of Appeal where these issues will be properly ventilated."
Meanwhile, Mr Smith said when questioned that if the stay is granted, his legal team will take the matter up in the appellate court.
"If the stay is granted we quickly move to the Court of Appeal and get the appeal heard," he said. "The government has given an undertaking not to trifle with Jean Rony, that is not to arrest him, not to detain him, not to expel him unlawfully. So that is a major one of his constitutional rights we wanted protected. So we'll just wait and see."