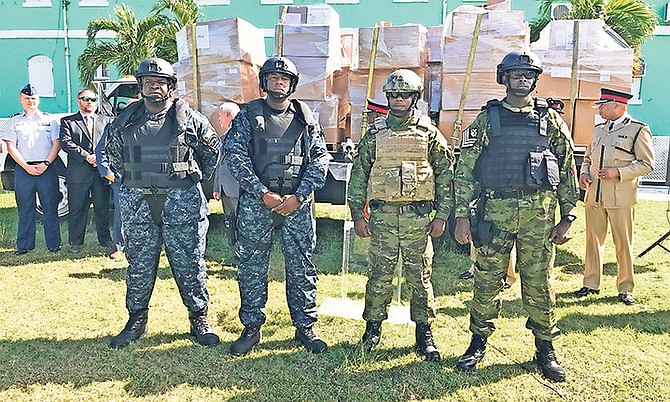 By KHRISNA RUSSELL
Deputy Chief Reporter
krussell@tribunemedia.net
THE United States Embassy in Nassau yesterday handed over more than $245,000 in ballistics equipment to the Royal Bahamas Police Force that is expected to assist in the fight against crime.
James Denver Herren, US Embassy chargé d'affaires, said the equipment was transferred to the RBPF to protect officers who participate in interdiction operations under OPBAT - Operation Bahamas Turks and Caicos.
The gear is worth $245,287.35, an official said and includes vests which inflate in water and helmets among other equipment.
Police Commissioner Anthony Ferguson said during a brief ceremony at police headquarters that the equipment would without doubt enhance the capabilities of the police.
Mr Herren said: "Everyday, around the world a line is drawn between chaos and calm. Standing on that line are the men and women of law enforcement. People who have made a conscious decision to place their lives on the line to defend the calm, protect the innocent and enforce the law. This is a noble cause.
"Here, Bahamian and US law enforcement officials come together in this noble pursuit. However, they take it one step further. Instead of merely defending the calm or remaining on the line, they descend into the chaos to prevent crime, curb the flow of illegal firearms, and reduce the demand for illicit drugs.
"It takes a combined effort by a diverse group of stakeholders from both sides to achieve success against the criminal groups operating within and between our two countries.
"There is no doubt that the criminal networks are transnational, operating between our two countries, putting all of our citizens and our security at risk. Arrests in the Bahamas remove criminals from your streets and from ours. For that reason, we are bound together as partners, and we want to ensure that our partners have the protective gear and equipment needed to stay safe and effective."
In 2017, he said, OPBAT operations led to the seizure of 915 kilograms of cocaine, nearly 57,000 pounds of marijuana and 15,580 marijuana plants, leading to the arrest of 148 drug traffickers.
"These are tangible results, demonstrating the merits of our joint operations. Our combined efforts have reduced the flow of illegal drugs and increases public safety and security for both of our nations," Mr Herren said.