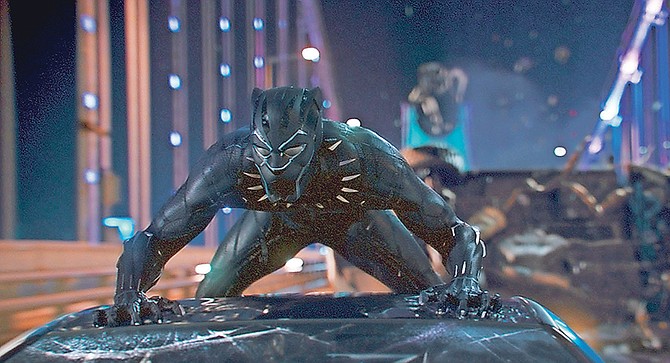 By RASHAD ROLLE
Tribune Staff Reporter
rrolle@tribunemedia.net
PATRINA Farquharson, who works with children and charitable groups, is raising money to take young people to see "Black Panther," the cultural phenomenon hailed for its rare and empowering portrayal of blackness on the silver screen.
But there is a problem: the movie is rated T, meaning children below 15 are prohibited from watching it in theatres.
Unlike in some countries, where children are allowed to watch PG-13 movies under adult supervision, regulations here say no child under 15 can watch a Rated T film in theatres, even if accompanied by an adult.
Ms Farquharson, who is already raising money in a bid to book-out a theatre for children, said this is disappointing in light of the cultural significance of the film.
"All children, from eight onwards in the public schools that I've been working with, have the maturity to understand this movie," she said.

"Black Panther" portrays its black actors and actresses in the non-stereotypical role of superheroes; not gangster, drug-dealer, slave, or mere source of comic relief.
Despite its fictional setting, the movie, Ms Farquharson believes, enables young people to imagine greater possibilities for themselves in a world that often prompts them to think only of their limitations.
"As far as I know, there isn't anything they shouldn't see in that," she said. "I believe it's important to see the possibility of thinking 'what if.' If the rating could be reworked for this movie, I would be very happy. That would enlarge the group of children we can give the opportunity to see this. What's important for me is I'm Bahamian but Asian. When I work with kids in the city, I think they think people who look like them don't have a right to be successful; they expect for us to be successful because we're not black. It's important to see people like them can do anything."
Tavarrie Smith, a youth leader who planned to take a group of young people to the theatre to see the movie as well, said the matter highlighted the outdatedness of this country's film rating system.
"While I understand that The Bahamas can be very conservative in its values, we live in an age of social media, digital technology and evolving social norms," he said. "Our ratings should reflect the times in which we live, especially by empowering parents to be better parents. No one is advocating for a change in the rating system that exposes children and teenagers to unnecessary violence, language and sexual themes - but for a rating system comparable to time and age in which we live. Our children will see these films with or without parental consent, the internet has already made that possible - so why not allow our rating system to consider 'parental guidance' rather than outright exclusion for films with strong content. This story is about 'access' for me, I just want children to have access to seeing themselves on the big screen in such a positive way."
The movie, which opened over the weekend, is a box office smash, with international reports indicating global ticket sales will total an estimated $387m by today.