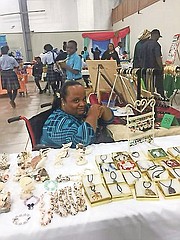 By ALESHA CADET
Tribune Features Reporter
acadet@tribunemedia.net
People often assume that those with disabilities mostly lead unhappy, unfilled lives. However, research conducted over the years and testimonials by individuals like Edvenna Major prove the opposite to be true - that many disabled people experience satisfaction in their lives.
At age 30, Edvenna is a well-rounded member of society, despite having lost one of her legs three years ago and being a wheelchair user. She is an artisan, entrepreneur, talk show contributor and educates students on her disability. And she has a message for any doubters out there: "I am disabled but able."
Edvenna was the third child born to Altermease Major. At first, Ms Major did not want to accept the diagnosis that her daughter had spina bifida (Latin: split spine) - a birth defect which occurs when the bones of the spine (vertebrae) do not form properly around part of the baby's spinal cord - and would require special care for the rest of her life.
After Edvenna was delivered via C-section, Ms Major was told her baby would possibly not survive the night, but thankfully the night turned into days and the weeks into the months, and into years.
Being in a wheelchair made securing an education for Edvenna difficult, however, she was able to attend SC McPherson for high school, where her mother was a teacher.
Together, they faced many other challenges, but one of the hardest was being told that Edvenna would lose her left leg due to her spina bifida. Edvenna was 27 years old at the time and said this period was a very emotional one. But she persevered throughout her difficult journey.
Today, she has adjusted to her condition the best way she can by trying to live a "normal" life. Edvenna remembers spending long and lonely days at the University Hospital in Florida, but being determined to live life to the best of her abilities kept her going.
Ms Major taught her daughter the importance of being as independent as possible, to know the value of hard work, and encouraged her to live her life to the fullest extent possible rather than staying home feeling sorry for herself.
Over the years Edvenna has taken pleasure in creating and teaching the art of seashell craft to other people with disabilities. Even though confined to a wheelchair, on weekends she can be seen downtown at her craft booth in Pompey Square where she sells handcrafted souvenirs to tourists and locals alike.
"I am an independent young lady who takes my job as a thriving disabled entrepreneur seriously. I live at home with my parents and siblings and in my spare time I enjoy going into schools to speak with students about my disability. I also enjoy taking part in weekly talk shows with Philippa Russell, airing every Thursday on ZNS," she told Tribune Health.
Edvenna is also a member of the Bahamas National Council for Disability and serves as the assistant secretary for the organisation.