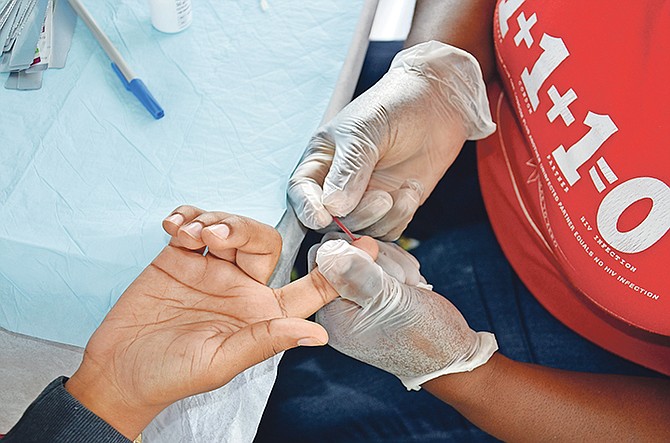 By JEFFARAH GIBSON
Tribune Features Writer
jgibson@tribunemedia.net
WITH the practice of "sweethearting" being a common facet of Bahamian society, married and dating couples who suspect infidelity are being encouraged to get tested for HIV/AIDS, even if they do so unbeknownst to their partner.
While the ideal scenario would be for couples to get tested together so each person knows their individual status, HIV educator Keith Kemp said those who suspect their partners of stepping out on the relationship should get tested, even if it is by themselves.
Mr Kemp's words of advice came as the the National HIV/AIDS Programme hosted two couples testing initiatives this month, with the final one held last Friday at the Royal Victoria Gardens.
Married persons, those in relationships, friends, co-workers, fraternity brothers and sorority sisters were all asked to come in pairs to the free testing event.
Mr Kemp, who is an educator with the programme, said one of the main aims for the couples testing event was to debunk many myths and misconceptions about HIV.
"Sometimes a person may have difficulty explaining the facts about the virus or the importance of being tested to their partner. So it's best to come in together so both parties can receive information, ask questions and get the truth about HIV transmission," he said.
"We want persons to know that HIV has a 'window period'. The window period is the several weeks to three months it takes after being exposed to the virus for the virus to be detected by an HIV test. This means that although you may have tested negative once it's possible you may be in the window period, so it's important to get tested at least twice a year to determine your true HIV status. Once a person comes in to be tested they go through pre-test counselling and post-test counselling where they receive advice and accurate information to dispel all myths pertaining to HIV and its transmission."
During Friday's event couples were educated on what they can do to personally protect themselves in marriage from contracting HIV, whether that involves the use of condoms or abstinence until their partners can be tested.
"Men and women must be made aware of the danger of continuing unprotected sexual activity if they suspect or know that their partner is having extramarital affairs; dangers like contracting HIV or a sexually transmitted infection," said Mr Kemp.
Married couples, as well as those single and dating, should be tested a minimum of two times per year.
Having a conversation about a partner's HIV/AIDS or STD status can be uncomfortable, especially when a relationship is fairly new.
Mr Kemp offered the following advice to people wanting to start the conversation:
"One thing we like to emphasise when having a conversation about partners being tested is to bring up the topic when it is most convenient, like just after reading about it in a newspaper, or maybe after watching something on TV or just bring up testing as a conversation-starter - whether couples are married, or single and dating. It's also good for partners to get tested individually and then bring home the results to their partners and use that to open the discussion about HIV and getting tested as a couple in the future. We also encourage persons to come in and receive information, which they can they share with their partner, or they can bring in their partner and we can advise them both."
Once tested, Mr Kemp said a partner can ask to see a hard copy of the results, which which will bear two signatures and a stamp from the National AIDS Programme as verification.
Since 1985, more than 13,366 persons have been diagnosed with HIV in the Bahamas and the country currently has a prevalence rate of two per cent.