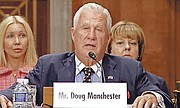 By KHRISNA RUSSELL
Deputy Chief Reporter 
krussell@tribunemedia.net
DOUGLAS Manchester, the billionaire and real estate developer who was nominated by US President Donald Trump for the post of Bahamas ambassador, has issued an apology after accusations of having an unsettling management style that allegedly made some female employees uncomfortable.
The allegations date back to a time when Mr Manchester owned The San Diego Union-Tribune Television, a now defunct TV station he launched as owner of the Union-Tribune newspaper from late 2011 to 2015, according to international news reports.
His apology came in an email that was also copied to President Trump last week. It was in response to a Washington Post reporter who made inquiries about the work environment at U-T TV.
"While I was chairman of the U-T San Diego, I became aware of egregious mistakes made by staff members," Mr Manchester said in the email.
"When they were brought to my attention, I immediately took appropriate action."
According to the San Diego Union-Tribune, Mr Manchester did not offer any specifics but said: "I am terribly hurt to learn of these allegations and apologise to any employee who felt uncomfortable or demeaned while employed at the U-T San Diego during my tenure."
In response to further questions from the Union-Tribune, Mr Manchester said he has never been the subject of any complaints himself.
"In 55 years of business involving multiple businesses and more than 6,000 employees, I have never had any action as to sexual misconduct, including U-T TV," he wrote by email, the newspaper said. "When egregious sexual misconduct was brought to my attention, executives were terminated but none was ever brought against me."
Cory Fish, director of human resources when Mr Manchester owned the newspaper, told the Union-Tribune, "As with any company, there were allegations of harassment. Every claim was investigated, thoroughly, and appropriate actions were taken as necessary."
Several U-T TV staffers contacted by Union-Tribune reporters over the past week said they had not been harassed, did not file any complaints and did not know of anyone doing so.
However, The Union-Tribune reporters learned of a settlement paid to at least one employee during the Manchester years. The newspaper said two sources with direct knowledge of the situation said that the company paid a woman who filed a harassment complaint against a non-newsroom executive (a man who no longer works at the newspaper).
In response to this, Mr Manchester told the Union-Tribune: "There was never a payment made to anyone as a result of my actions, although there was a payment involving another executive."
According to the Washington Post, under Mr Manchester's ownership, he "employed an unconventional, anachronistic management style that upended the newspaper's culture and made many female workers uncomfortable, according to more than a dozen current and former employees who spoke on the condition of anonymity."
Last May, President Trump nominated Mr Manchester, nicknamed "Papa Doug," to become the US ambassador to the Bahamas.
A Senate committee heard his nomination but it was not approved before the end of the 2017 Senate session.
President Trump re-nominated Mr Manchester in January.