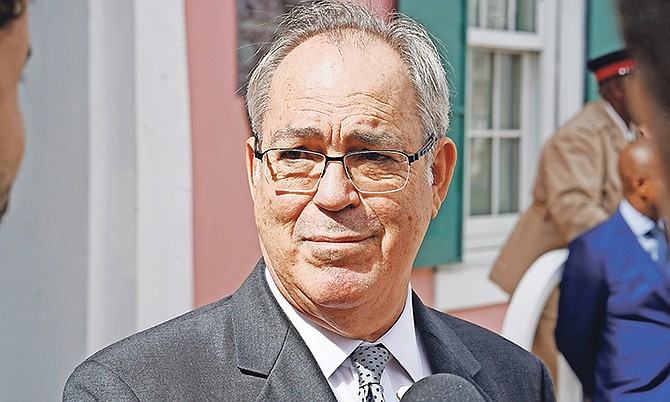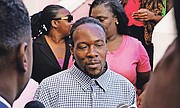 By RICARDO WELLS
Tribune Staff Reporter
rwells@tribunemedia.net
IMMIGRATION Minister Brent Symonette, right, has hit out at "sensationalised" reports about Bahamas-born deportee Jean Rony Jean-Charles, left, saying commentary on the matter seems to have missed the fact that not every person born in The Bahamas is an automatic citizen.
Mr Symonette also said as of Monday, Mr Jean-Charles had no application before the Department of Immigration for citizenship.
He was asked if he had any concerns over a recent Supreme Court ruling on the government's stay application in the high-profile matter of Mr Jean-Charles.
The St Anne's MP said media and public discourse surrounding the ordeal has suggested that any person born in the Bahamas gains the automatic right to Bahamian citizenship, once they apply, however he strongly refuted this.
"We have to stop sensationalising the issue," Mr Symonette said. "I think you asked me this morning about Bahamas-born; Bahamas-born has a very technical meaning.
"For me," he said, "it is very simple, I am Bahamian. My parents were Bahamian. I was born in the Bahamas to Bahamian parents. I am entitled at birth to a Bahamian passport.
"Just because people are born in the Bahamas does not make them Bahamian. And you continue to comment, you made the point this morning, 'Bahamas-born.' 
"Unless you have applied for a citizenship or permanent residency, under the law, the mere fact of being born in the Bahamas does not make you Bahamian, nor does it give you an automatic entitlement to stay in the Bahamas."
Mr Symonette added: "I hope we can clear this matter up once and for all, and stop the repetition that the press has made and ministers and Fred Smith about Bahamas-born.
"It is very clear, you have to be born here of parents who are not Bahamian, you have the right to apply.
"The government does not have to give you, nor is it legally bound to give you, according to a ruling in the Privy Council, the D'arcy Ryan (ruling), citizenship.
"So we (don't) have to keep repeating this issue, Bahamas-born (does not give) them the same right as someone like myself who is born to Bahamian parents in the Bahamas," he said.
Mr Symonette said the narrative being presented by those working on behalf of Mr Jean-Charles omits that he failed to apply for legal status between his 18th and 19th birthday, as mandated by law.
He said that failure, despite the personal feelings of those involved, negated all automatic constitutional rights Mr Jean-Charles had to apply for legal status in the Bahamas.
"So I think we have to be very careful as you keep repeating the utterances that you do, that you qualify if that in Mr Rony-Jean's case not every comment is the same, there is no application before immigration as of yesterday, that I am aware of, for anything to do with him," Mr Symonette told reporters gathered outside the Churchill Building yesterday.
"So let's try and put some balance and not sensationalise the case. So he has lost automatic constitutional right to apply because he did not apply between 18 and 19.
"He has lost his right, full stop.
"There is a discretionary right for the Bahamas government to consider, but not an automatic constitutional right.
"So I hope I've cleared that issue up," Mr Symonette concluded.
In court last Friday, Supreme Court Justice Gregory Hilton granted a partial stay of his landmark ruling in the case of Mr Jean-Charles, releasing the government from his order to grant the Bahamas-born man status pending its appeal of his judgment.
He also ordered that Mr Jean-Charles was not to be arrested, detained or expelled, and be allowed to support himself until the appeals have been determined. 
The government sought a full stay of Justice Hilton's ruling, in which the judge ordered the government to immediately issue a travel document to allow Mr Jean-Charles to return from Haiti to the Bahamas, and be reimbursed for that cost by the government; and to grant him "such status" that would "permit him to remain in the Bahamas and to legally seek gainful employment" no later than 60 days after his return. 
Justice Hilton initially found that Mr Jean-Charles was "unlawfully expelled" from the Bahamas after having been detained at the Carmichael Road Detention Centre from September 18 to November 24, 2017 in breach of his rights guaranteed under Article 25(1) of the Constitution.