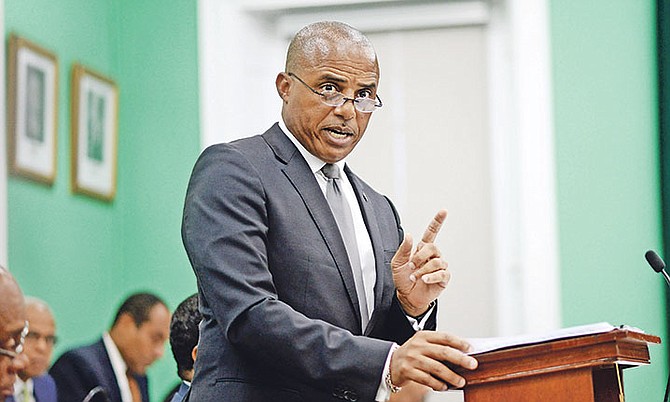 By Morgan Adderley
Tribune Staff Reporter
madderley@tribunemedia.net
DESPITE several recent murders, homicides are still "down more than 50 percent" compared to last year, Minister of National Security Marvin Dames said yesterday.
Speaking with The Tribune outside of the House of Assembly, Mr Dames discussed initiatives the Royal Bahamas Police Force is using to combat crime, the upcoming scientific manpower study of the RBPF, and last weekend's shooting incidents in Pinewood Gardens.
Mr Dames said: "Right now it's still early into the year. But when you look at homicides, its down more than 50 percent compared to last year. So (the police) are doing a fairly good job. They've been seizing weapons every week, assault rifles, handguns and the like."
While Mr Dames said murders are down more than 50 percent, The Tribune's records show a decrease of 45 percent compared with this period last year.
Up to press time, there were 16 homicides recorded for the year, compared with 29 as of February 19, 2017, according to this newspaper's records.
A man was shot dead Tuesday night as he visited a relative in Wilson Tract, police said.
This came after two men died and four others were taken to hospital after two separate shootings in Pinewood on Friday and Saturday nights. Another man was found stabbed to death earlier Friday at Potter's Cay Dock.
When asked specifically about the incidents in Pinewood Gardens, Mr Dames said: "We recognise that we do have a problem with some of our young men, a number of whom have resorted to a lifestyle of gangs and drugs and other criminal activities.
"And this is the world that they're living in, unfortunately. Not all of them, but a goodly number of them. So we're working as a government to find some kind of solution to these problems.
"One of the things that we're doing certainly is providing that increase in police visibility in a number of these communities that are plagued with such problems."
He said law enforcement has seen tremendous success in the crime fight.

"We've been targeting prolific offenders, we've been using technology as well to expose those persons who are involved in gang activities, who are involved in the selling of drugs in these communities, who are involved in armed robberies and housebreakings and all of the like.
"So we, from the police perspective, have been doing a pretty good job in reducing the level of activities in these communities.
"Now that is not to say that from time to time you will (not) have flare-ups like we had in Pinewood."
However, Mr Dames added: "This is not a police problem. This is a problem of neglect. Neglect that has manifested itself over decades. And so we now as a people have to take a stance and determine what direction we want to go, we want to take our country. And it starts within our homes.
"When it reaches the police, it is often too late… Yes, the police's job is prevention, detection of crime, apprehension of offenders and bringing them to justice.
"But how did we get here? And so we recognise as a government that our approach must be holistic and it must involve the collective contribution and support of every segment of the community."
Mr Dames said there is a lot more work to be done in terms of restructuring the police force to aid in fighting crime.
"And so very shortly, by next month sometime, you should see something that our government has promised, which is a scientific manpower study of the police force.
"(This will be) looking at recruitment, looking at training, looking at education, looking at police stations, looking at numbers, and determining the need for every police station throughout (the country)."
Mr Dames reiterated that one major issue facing the force is the dwindling number of officers— a phenomenon that has been ongoing since 2011.
"We need to get a grip on that," Mr Dames said.
"And we need to determine based on demographics, based on crime, based on development, based on size, any number of other variables, what is needed to police respective communities throughout The Bahamas. It's going to be a very interesting report (the manpower study), we're very excited about it, and we hope to certainly be sharing some of our results by next month sometime."