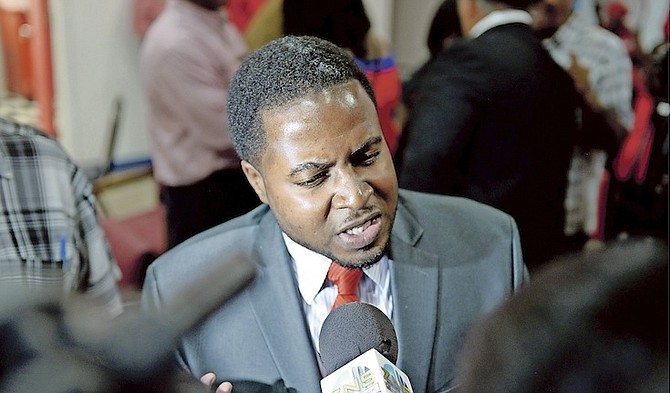 By RASHAD ROLLE
Tribune Staff Reporter
rrolle@tribunemedia.net
ALLEGED theft of water pumps and the brazen trick used to disguise it have prompted the Royal Bahamas Police Force to be invited yet again to launch a criminal investigation into irregularities at the Water & Sewerage Corporation.
Asked about the matter when contacted yesterday, WSC Chairman Adrian Gibson admitted he sent a letter yesterday to Assistant Commissioner of Police Paul Rolle, head of the Anti-Corruption Unit, inviting the police to investigate matters that were uncovered during a recent investigation by the Internal Control and Compliance Division of the corporation.
"The matters in question fall within, and perhaps outside of the ambit of suspected theft, and have caused there to be serious allegations and/or findings of a criminal nature that purportedly could involve certain WSC employees and corporation resources," he admitted. "Notably, a few days ago, I briefed ACP Rolle by telephone and I also did the same with Minister (of Works Desmond) Bannister. We've had issues with the New Providence Operations Division of WSC, wherein a recent police investigation of alleged theft of hydrants was undertaken."
This matter is currently before the courts.
Mr Gibson said: "Arising out of (the hydrant) investigation, the Internal Control and Compliance Division (ICC) has conducted an inventory check and carried out further reviews of the stores section of the Operational Division. About a week ago, the stores manager discovered that there were empty boxes on shelves that previously held pumps. Upon inspection, they were found to be filled with loose pipe fittings and/or empty boxes placed on the shelves. ICC was called in to investigate and, upon their review, discovered that 47 pumps––of various horsepower––are missing."
With each pump valued at more than $500, the total value of the pumps unaccounted for is under $20,000, Mr Gibson said.
"On the face of it," he added, "it appears that various items were placed in the boxes and the boxes were returned to shelves so that when an inventory count was concluded, no one was immediately alerted to the fact that the boxes on the shelf did not contain the content as labelled. It's like walking in a foodstore, drinking a can of soda and putting the empty soda can on the shelf. ICC is in the process of reviewing all items in stores, manually going through the boxes, to ensure that they contain items labelled thereon and to ensure that the computerised record of inventory and the physical count of inventory align."
Mr Gibson has pledged to shake-up the culture of the corporation, introducing a strictness that would ensure transparency and accountability.
He said: "I have directed the management to ensure that, going forward, a compliance officer is assigned to the New Providence Operations Division. There will be a full recount of stores items, including full inspection of all boxes and containers; installation of additional security cameras at key areas/points within stores; identification of high valued items and further separation of these items in more secure storage facilities--these items will require a higher level of authorisation to be accessed and issued; and a bar coding/scanning system will be implemented. The idea is to foster an environment of transparency and accountability. We want to ensure we can account for taxpayers' monies. Prima facie, it appears that these are longstanding legacy issues that have plagued the corporation for many years; we are going to put the controls in place to ensure that these incidences don't recur and that leakage, wastage and the potential for theft is minimised and/or stopped. As it stands, ICC is conducting a further investigation to ascertain how many other items could potentially be missing from stores with a view to reconciling the physical count with the computerised inventory count." 
Last year, Ernst & Young conducted a forensic audit of the corporation. The anticipated audit has not been disclosed to the public.