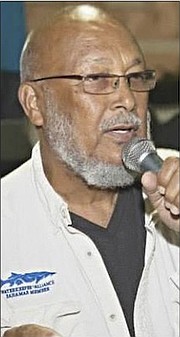 By DENISE MAYCOCK
Tribune Freeport Reporter
dmaycock@tribunemedia.net
THE signing of a heads of agreement for the Oban oil refinery in East Grand Bahama is being characterised as a "death knell" for the environment and the people of the island, according to one environmental activist.
Joseph Darville, of Save the Bays, a non-profit environment group, said it is a colossal mistake to approve such a project in an area that boasts of having one of the most pristine environments in the country.
He stressed residents have already witnessed and continue to be impacted by the devastating effects of an oil refinery in the southwest part of the island.

His comments came as an online petition has been launched to stop the project from going ahead.
"It is an amazing misstep of our government to go ahead to this extent that they would sit down with some foreign entity and sign an agreement which is actually signing a death knell for our environment and people," Mr Darville said. "And I am saying that unequivocally because we have not been provided with any sort of information to allow us to come to any other conclusion."
Oban Energies Executive Director Peter Krieger, during the signing on Monday, expressed his eagerness of having an environmental impact assessment (EIA) for the oil refinery and storage terminal completed in 45 days.

However, Mr Darville believes that it is "ludicrous" to think that an EIA for such a project would be ready in such a short space of time.


"They are putting the cart before the horse. We should have been informed about the vicinity, and the exact dimension of the development. This EIA should be done by an independent agency, not one appointed by the government or the company that is proposing to do this development - this is a gross insult to the people of the Bahamas, and particularly to Grand Bahamians."
The Save the Bays executive indicated that the project could threaten about five to six different ecosystems in East Grand Bahama.
"A project of that magnitude with plans to be producing 50,000 barrels of refined fuel per day would have a catastrophic impact on environment and people," he claimed.
Fisherman and businessman Fritz Thompson, who operates of a small bone fishing lodge in Sweeting's Cay, East Grand Bahama, does not welcome the project.
"Being a crude distillation operator many years ago, I am very familiar with the potential environmental threat that can come from a refinery, and I share the concerns of the residents," he said.

"We have heard of the existing concerns of the residents in the Pinder's Point area, and one should be very concerned that we do not have the same in this area."
Mr Thompson indicated that the residents of McLean's Town, Sweeting's Cay, and Moore's Island make a living from the sea catching conch, lobster, and fish.
"We also have some of the most beautiful beaches on that coastline that needs to be protected. I feel that (while) this new refinery and storage will be built with the latest and best technology to minimise and eliminate pollution and spills, I do not welcome this project and trust the government to ensure that all necessary measures are put in place to address the concerns."
He also suggested that the government consider putting a clause in the agreement that would allow for the construction of a public harbour that can service the needs of East Grand Bahama.
Eco-tour guide Rudy Sawyer, of Blue Green Outdoors, who takes groups on eco-tours to East End, believes that Freeport would be a more suitable location for the oil refinery project.
"The government talked about focusing on promoting the east as eco-sensitive area, and the west for its cultural heritage. But to hear them encouraging a group to put up an oil terminal is anti-eco-sensitive, and for it to be in the most eco-sensitive zone that they had taken a policy decision to set aside for eco-tourism developments.
"I think that Freeport would have been an ideal spot for that type of development. East End is really the richest ecological area – one of the richest we have in the country. It has been well known for the bone fishing that is going on, and I certainly would hate to know they would do things that could disrupt that."

Gail Woon, of EARTHCARE, had mixed feelings about the project that could provide hundreds of jobs on the island.
"I would like to see people have jobs in Grand Bahama because we desperately need jobs (here). But I was hoping that our country would move away from fossil fuels instead of investing in fossil fuels which contributes to climate change as we are already being impacted by more severe hurricanes, and people are being affected all over the world."
Ms Woon, a marine biologist, agrees the refinery could have been located where there is already environment damage in the industrial area.
"It would be little or less impact because you would not be impacting the pristine coastal areas, the mangroves, coppice and forest areas, and the water tables," she said
Officials have said the project would create 1,000 construction jobs, and provide 600 permanent jobs for Bahamians.
Meanwhile, a petition called 'Stop the Oban Energies oil refinery project. It will destroy the beautiful Bahamas' can be found on change.org. It had less than 100 signatures up to press time.
More like this story