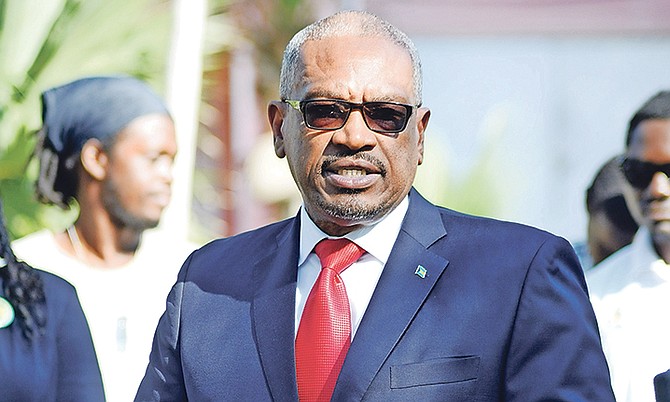 • PM insists former government signed off on Oban Energies
• SEC lawsuit against Krieger dismissed as 'old news'
• Website wiped to hide details of leadership team
• Company 'took advantage of Minnis' naivety'
By RASHAD ROLLE
Tribune Staff Reporter
rrolle@tribunemedia.net
PRIME Minister Dr Hubert Minnis dismissed concerns yesterday about Peter Krieger, the non-executive chairman of Oban Energies and public face of the multi-billion-dollar project, who has faced a Securities Exchange Commission lawsuit alleging misappropriation of millions in investor funds, saying the revelations are "not new." 
Insisting previous administrations performed due diligence assessments on the project before his administration decided to push it forward, Dr Minnis suggested the heads of agreement for the $5.5 billion East Grand Bahama project will ease concerns that have emerged about all the people behind the project when it is tabled.
However, the agreement was not tabled in the House of Assembly yesterday as officials said it would be. 
Asked why, Dr Minnis told reporters: "Parliament was very short today, but it will be tabled next week."
Mr Krieger paid $110,000 to settle a SEC lawsuit about a decade ago, though he did not admit guilt or innocence in the case. He was also a defendant in a legal action filed in 2013 by the Bahamas-based judicial manager for a sister company of the insolvent insurer, CLICO, in which he was accused of misappropriating $8.7m of the company's funds for his own personal use. The case against him was dismissed after it was determined that the statute of limitations had passed. Mr Krieger has stressed he is an "ambassador" for Oban Energies and would have an "extremely limited" role once approvals are obtained.    
Dr Minnis dismissed these revelations about him as old news yesterday, despite the fact that they were not previously acknowledged or disclosed to the Bahamian public. 
"These are matters that were dealt with by former governments," Dr Minnis said when questioned outside Parliament. "They had done their necessary due diligence; we completed the heads of agreement."
Suggesting he is satisfied that Mr Krieger has "explained himself," Dr Minnis said: "Y'all have drilled him. What I would say is that all governments have gone through the process of due diligence; they were quite happy and the heads had already started; what we did was complete the heads of agreement. Due diligence and everything were done by the previous governments and, of course, the Bahamas Investment Authority despite what it would've inherited, would've gone through everything and explained everything to us."
Dr Minnis did not directly address revelations that the three executives of the project may have had their qualifications or background exaggerated. 
Yesterday the company edited its website, removing all references to the executives just a week after Dr Minnis made claims in the House of Assembly nearly identical to what the website claimed about the company's management team. 
As he addressed the deal in the House of Assembly last week, Dr Minnis said he was "advised that Oban Energies' management team has been involved in large energy infrastructure projects around the world and brings over 30 years of large complex construction experience."
However, the executive from the company said to have over 30 years management experience with expertise in construction operations, Senior Vice President Russell Erickson, actually has a history in boat manufacturing. He was also recently a car salesman, though a former manager of a company he worked for told The Tribune this week he was fired for lack of performance. Mr Krieger said Monday efforts will be made to establish Mr Erickson's "extensive experience" in construction. 
The Tribune also revealed yesterday that the company's president, Satpal Dhunna, was dismissed from CreditSights, a credit research firm, in 2010 for alleged "gross misconduct;" he had not been a managing director of the firm as he claimed, according to a representative of the company. 
In addition, the man identified as the finance chief of the project, Mark Michel, should not have been included on the website as part of the company's management team, according to the chief executive of the company Mr Michel works for, Anthony Felice. Mr Felice, who heads Drexel Hamilton, an investment banking firm, said Mr Michel is a director of a department at the firm, not the managing director as was claimed. He said the company has been helping Oban Energies with financial issues relating to the project. 
Mr Krieger has said the bank backing them will produce a letter for the government this week indicating its financial support for the project. Critics have not only expressed concern about the track record of Oban Energies, but successive administrations are said to have been concerned about whether it could demonstrate proof of funding. 
When Dr Minnis was asked if he is confident financiers of the project were aware of the true background of the executives and are minded to back the project despite yesterday's revelations, he said: "Ask me of my confidence? …No, I don't want to say what I want to say. I'm on TV. But the heads of agreement will explain everything."
He added: "I think what happens is y'all should wait until the heads of agreement is tabled in Parliament next week. You will see what individuals are supposed to do with commitments they're responsible for, guidelines, etc. The head will speak for itself. I think it's essential for the heads to be tabled next week so you can read it in its entirety before you start jumping off the edge left, right and centre. Wait for the heads of agreement and see who signed the heads of agreement, etc, explains a lot of what you're looking for now. That's why it is essential before jumping off a cliff and asking questions, it's essential to review the heads of agreement then you come after me, but don't come in the blind. It's like you sitting on the moon with a fishing line, dropping that line and trying to catch one fish on earth; you don't know where the hell it going throughout the universe."
Although Dr Minnis repeatedly emphasised that previous administrations had no concerns about the project, Progressive Liberal Party (PLP) officials disputed this yesterday.