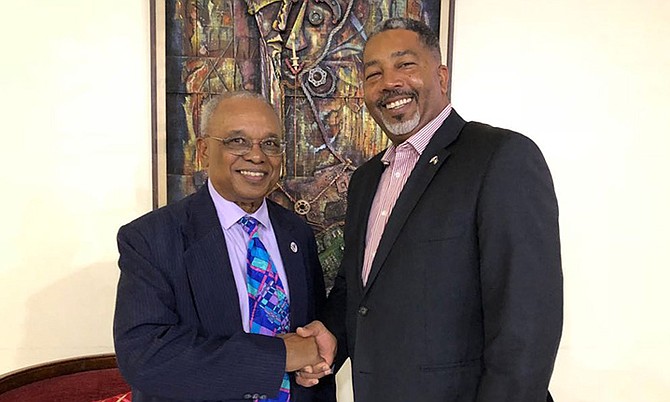 By Matt Maura
PORT-AU-PRINCE, Haiti – The Bahamas' advance delegation to the 29th Inter-Sessional Meeting of the CARICOM heads of government arrived in Haiti Thursday afternoon.
The two-day Caribbean Community and Common Market (CARICOM) conclave will be held on Monday and Tuesday. The Bahamas' delegation will participate in a number of high level and other meetings leading up to the Inter-Sessional assembly.
Led by Transport and Local Government Minister Frankie Campbell, the advance delegation was met at Toussaint L'Ouverture International Airport, Port-au-Prince, by Bahamas Ambassador to the Republic of Haiti, Jeffrey Williams and Embassy Staff.
The Bahamas' full delegation was expected to arrive in Port-au-Prince on Saturday. Prime Minister Dr Hubert A Minnis heads the delegation. Prime Minister Minnis will be accompanied by Minister of Agriculture and Marine Resources, Renward Wells; Minister of Tourism, Dionisio D'Aguilar; Minister of Foreign Affairs, Darren Henfield; Joshua Sears, Senior Policy Advisor, Office of the Prime Minister, and Gregory Rahming, Acting Director, Ministry of Agriculture and Marine Resources.
Key items to be addressed on the agenda of the Inter-Sessional assembly include Disaster Management and Recovery, Tourism, Regional Security, and Blacklisting and De-Risking. CARICOM Heads will also discuss the Enlargement Policy for the Community with a view to addressing applications received for Associate Membership in CARICOM.
The Caribbean Community is currently made up of 15 member states and five associate member states. Member States include Antigua and Barbuda, The Bahamas, Barbados, Belize, Dominica, Grenada, Guyana, Haiti, Jamaica, Montserrat, Saint Lucia, St. Kitts and Nevis, St Vincent and the Grenadines, Suriname and Trinidad and Tobago.
Associate Member States include: Anguilla, Bermuda, British Virgin Islands, Cayman Islands and the Turks and Caicos.
CARICOM Heads of Government convene two meetings annually. The major meeting is the regular meeting of the conference, which is a formal meeting that is held annually during the first week of July and which coincides with the anniversary of the signing of the original Treaty of Chaguaramas, on what is now known as CARICOM Day.
Inter-Sessional Meetings of The Conference are held annually in either February or March and are less formal and less ceremonial than regular meetings. The bi-annual meetings provide CARICOM Heads with the opportunity to cover a wider range of topical issues within a given period.
PHOTO CAPTIONS
Minister of Transport & Local Government Frankie Campbell, centre, led the Bahamas advance delegation to CARICOM, pictured upon arrival in Port-au-Prince, Haiti, on Thursday. The Minister is also pictured (right) being greeted by Bahamas Ambassador to the Republic of Haiti, Jeffrey Williams. (Photos/Yontalay Bowe, OPM Media Services).