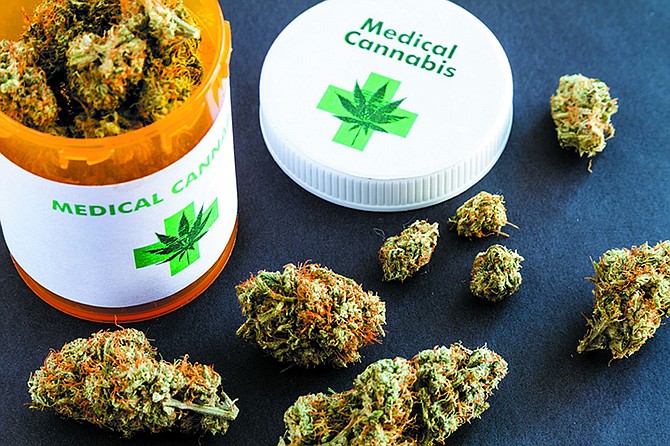 By RICARDO WELLS
Tribune Staff Reporter
rwells@tribunemedia.net
A SENIOR executive at the Public Hospitals Authority and leading pharmacist is urging government and local health officials to set the standard for medical marijuana research in the region.
Dr Marvin Smith, who serves as PHA deputy director and chief pharmacist at the Princess Margaret Hospital, made the recommendation during a presentation at the Rotary Club of West Nassau yesterday.
Dr Smith explained that due to the increase in global research around the production and various uses of marijuana, small developing countries like those in the Caribbean now find themselves in a race to produce and streamline research specific to its region.
He asserted that if explored and managed correctly, the research around medical marijuana in the Caribbean would yield the Bahamas "the whole loaf," rather than "catching the crumbs" in a viable industry.
"I am not involved in the whole (argument of) whether people should smoke or not recreationally," he said at Poop Deck West. "I don't smoke recreationally; I don't do that with marijuana. It doesn't make me any difference. I am talking about from a pharmaceutical standpoint."
Dr Smith also serves as president of Caribbean Association of Pharmacists.
He said that organisation has reviewed and endorsed several studies that have identified the benefits of medical marijuana.
"I think it will be good for us to find out from our own populations because marijuana affects different people differently."
Dr Smith continued: "For our own population, what is it good for; how can it work; how can it impact some of the healthcare problems and crises that we see and drive the research for the Caribbean through the Bahamas; particularly through the University of the Bahamas.
"I think that is going to be critical for us. And if the science supports good medicinal use, then we approve it. If it doesn't, then we don't. That's my key thing."
He added: "I represent 38 different countries and territories throughout the Caribbean and throughout Central and South America and we have members as far off as Latvia, and the UK and Canada.
"So from our end as a science advocacy group, for the profession of pharmacy, what we really want to see is responsible information out there.
"My side is science," he said.
"And so my point and the point of our organisation has always been this, if it can be scientifically proven that these things are good for our population, because different things affect different people in different ways; my Norwegian brothers and sisters are going to be differently impacted than my West Indian brothers and sisters.
"We want to see the research done here on our populations so that we can then provide the best possible information to the people who we have been called to serve; that's it."
When asked who would fund research efforts if explored in the Bahamas, Dr Smith said local schemes should mirror pharmaceutical research practices used around the world – insisting that companies wanting to operate in the proposed industry finance all research.
He said the role of the government in such an arrangement would be to enact legislative guidelines for research.
"The same way when a drug company wants to bring a new drug, they pay for their own research," he noted. "That is what I am talking about in terms of when I say there are zero public funds have to go into this. I don't think public funds should go into this."
CARICOM's Regional Commission on marijuana held its first town hall in the Bahamas last month.
Retired Bishop Simeon Hall, the country's representative on the commission, at the forum announced that he was now a proponent of medicinal marijuana, gaining a greater appreciation for the benefits of the crop since his appointment to the commission.
Bishop Hall's presence on the commission unsettled many persons who attended the forum, most of whom assumed that as a religious figure his mind would be set against marijuana legalisation.
Health Minister Dr Duane Sands has said legalising marijuana is not on the government's radar.
Last year Jamaican scientist Dr Henry Lowe made history when his drug, developed from cannabis to treat acute myeloid leukemia, was granted "orphan-drug" designation by the United States Food and Drug Administration. Dr Lowe's drug was described as a non-cannabinoid developed from the cannabis plant – marijuana. He now has permission to continue his research. (See Tribune editorial – Man tries to crack marijuana's secret - Thursday, February 8).