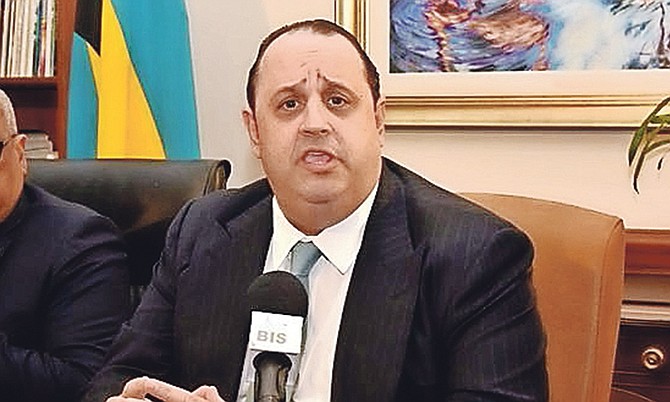 By KHRISNA RUSSELL
Deputy Chief Reporter
krussell@tribunemedia.net
PETER Krieger, non-executive chairman and the face of Oban Energies, was not only in problems with the Securities Exchange Commission, but also faced a federal tax lien for more than half a million dollars in unpaid taxes.
In total, Mr Krieger had an unpaid balance of $653,006.12 owed to the Internal Revenue Service, which noted there was a lien in favour of the United States government on all property and rights to property belonging to Mr Krieger, and added that additional penalties, interests and costs could possibly accrue. It is unclear whether this debt was ever settled.
Mr Krieger signed a heads of agreement with the government on Monday on behalf of Oban Energies, the company proposing a $5.5bn oil refinery in East Grand Bahama.
Yesterday, it emerged Mr Krieger had at one point, entered a plea of guilty on one count of organised fraud in the first degree for obtaining property valued at more than $50,000 in violation of Florida statutes. This is a felony charge.
The Tribune yesterday obtained documents, filed in the Palm Beach County Court House, showing the hold on Mr Krieger's property was connected to the tax period ending December 31, 2004. The fraud charge was filed in 2006 in the circuit court in West Palm Beach, Florida.
When Mr Krieger spoke to The Tribune earlier this week in relation to the fraud he admitted only to having paid a civil fine for action taken by the SEC.
He said he did this "without admitting or denying" the allegations of fraud when infact he had been pursued separately by the Florida State Prosecutor in a criminal action and had admitted the offence and been placed on probation for seven years.
A large amount of the funds he defrauded from clients was refunded.
Concerning the SEC, Mr Krieger was sanctioned leading to him being barred from acting as a broker or investment adviser or otherwise associating with firms that sell securities or provide investment advice to the public.
Attempts to reach Mr Krieger for comment yesterday were unsuccessful.
As Mr Krieger's storied past has now overshadowed the scale and potential of the proposed project, also opening the door to heightened public concerns about other individuals behind this multi-billion-dollar deal, many have called for greater transparency when it comes to this deal.
Among them was Gowon Bowe, Bahamas Institute of Chartered Accountants' president, who urged full disclosure from the Bahamas Investment Authority (BIA) on the process it took in the lead up to the Minnis administration signing the deal with Florida-based Oban.
While a certain level of confidence should be reposed in the BIA, Mr Bowe said given the propensity of what is at stake, the measures the authority took to investigate the executive structure of Oban as well as the recommendations to the government need to be made public.
Regarding Mr Krieger's history, Mr Bowe said in the United States and other advanced economies, there is nothing which prevents a person from alleging on others inappropriate acts. He said the decision to settle is oftentimes taken to avoid future litigation and future costs.
Mr Bowe said: "We have to have some confidence in the professionals that we have at the Bahamas Investment Authority and we have to give some benefit of the doubt to say that they have gone through elements and are aware of certain facts that are coming to light now and have taken a position that those things can be overcome.
"Now that's not saying that they did, I'm saying that we should not as the outsiders looking in condemn them before they've even gone to the jury if you will and there needs to be an understanding of what the BIA went through and what their recommendations were for the Cabinet and then ultimately the decision being made.
"I think there has to be some humility expressed to say that if we've gotten it wrong then we've gotten it wrong and if our processes were insufficient to identify areas that would have been of concern, then we need to look back at our processes. So I don't think we need to take what I would call an arrogant stance if we believe that we have gotten this one wrong, but I believe that before we can make that determination or we should be making that determination we should understand what was gone through by the Investment Authority on the basis that they are not Cabinet ministers, they are civil servants and professional staff comprising lawyers, comprising economists and others that are there and ultimately would have made a recommendation to proceed.
"If they made a recommendation not to proceed then that would be something that we would have to be very, very concerned about that we're not following their advice and if they said that we should proceed subject to then we should understand those conditions that they would have established," Mr Bowe also said.
"So I believe ultimately there needs to be an understanding of what process (they) went through, what were the findings and recommendations by our professional persons and then if we got it wrong then we simply should admit that our processes require further enhancement to ensure that basic checks and basic screenings to identify elements.
"What I will say is particularly in the US environment or advanced economies there is nothing that prevents a person from alleging inappropriate acts and the proof is always in the pudding at the end in terms of saying well are you satisfied that those are malicious allegations that had no basis even if the person settles simply to avoid future litigation and future costs or there were elements with merit that you should dive deeper into. So ultimately I think we have to just be very cautious in saying what position we take without reviewing the full facts.
"But if the government doesn't give the full facts then they have to appreciate that they are at the mercy of the people's perception because they haven't done anything to correct it," Mr Bowe said.
This comes after it was revealed Mr Krieger faced an SEC lawsuit which alleged misappropriation of millions in investor funds.
Although he did not admit innocence or guilt, Mr Krieger paid $110,000 to settle this lawsuit about a decade ago. He was also a defendant in a legal action filed in 2013 by the Bahamas-based judicial manager for a sister company of the insolvent insurer, CLICO, in which he was accused of misappropriating $8.7m of the company's funds for his own personal use.
The case against him was dismissed after it was determined that the statute of limitations had passed. Mr Krieger has stressed he is an "ambassador" for Oban Energies and would have an "extremely limited" role once approvals are obtained.
Despite these revelations, Prime Minister Dr Hubert Minnis on Wednesday not only insisted previous administrations did due diligence assessments before pushing through with the project, but he said the information about Mr Krieger was "nothing new."