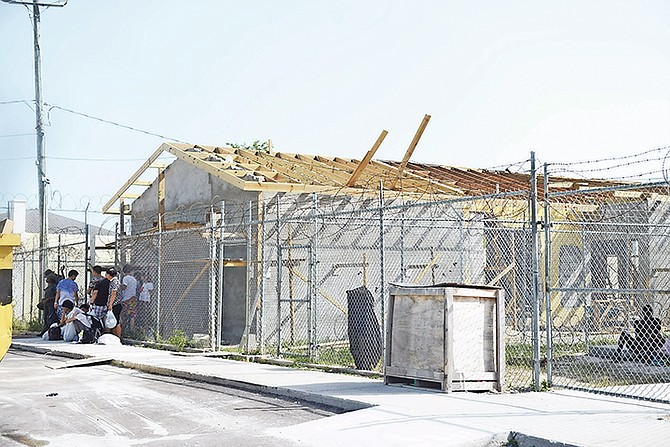 By Nico Scavella
Tribune Staff Reporter
nscavella@tribunemedia.net
A SUPREME Court judge has ordered the unconditional release of five persons and two minors from the Carmichael Road Detention Centre after ruling they were all "unlawfully detained" by immigration officials between November and December of last year.
Justice Gregory Hilton, in four separate rulings, ruled that Kediesha Bent-John, Gerna Ginord, Verante Mocombe – and their respective children –  as well as Ancelet Curry, were all detained contrary to the provisions of the law and that their continued detention would be "unlawful".
Justice Hilton said the Department of Immigration did not appear to have utilised the procedures specified in the Immigration Act for reasons "best known to themselves" when dealing with these individuals, and that there is "no other basis" upon which they could be held and detained.
Justice Hilton also awarded costs to those individuals to be taxed if not agreed.
He also ruled that another applicant, Michelot Merilien, who was detained by immigration officials on December 7 and released days later on the 13th when a writ of habeas corpus was served on the officer in charge of the detention centre, would not be entitled to costs as the proceedings should have been brought to an end after it was indicated to the attorneys for the applicant that the applicant had been released when a writ was about to be served.
Attorney Fred Smith, QC, representing all of the above individuals, said after the hearing today that Justice Hilton's ruling represents "another great day for the rule of law in the Bahamas."
"It is an affirmation that the rule of law exists in the Bahamas, and that people have rights," he said.
Earlier this month, Justice Hilton, in three separate judgments, ruled that Emmanuel Simeon, Mirlene Corvil and Fanel Gassant were all detained by immigration officials "contrary to the provisions of the law" between October 2017 and January of this year.
Regarding another detainee, Ricardo Johnson, who has a spousal permit, Justice Hilton ruled that his arrest and detention from November 2017 to December 8, 2017 was unlawful, however, he dismissed Mr Johnson's writ of habeas corpus application as he was released from custody prior to the issuance of the writ on December 8.
Regarding William Oneil, who was born in the Bahamas, Justice Hilton ruled that while his original arrest by immigration officials on January 8, 2018 was lawful, he could not have been detained for any more than 48 hours, thus making his continued detention up to January 23, 2018, unlawful.