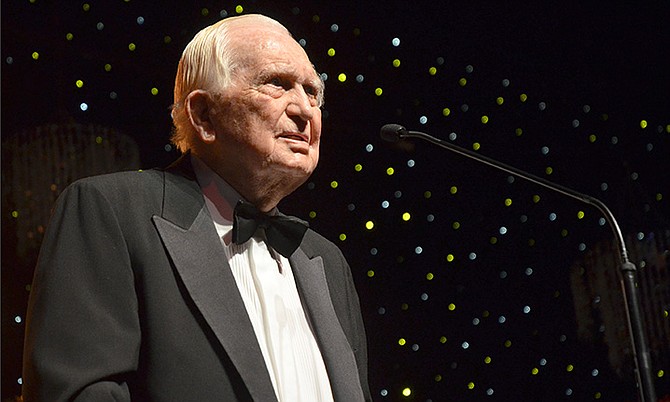 THE Bahamas lost a great citizen on Saturday when Sir Durward Knowles passed away at age 100. So much has been written about the man known affectionately as "Sea Wolf" in the days since and in the year of celebrations leading up to his 100th birthday that you might think it would be hard to add anything more. Yet such was the mark of the man that the more you know, the more there is to know; the deeper you dig, the greater his spirit shines;  the more records you realize he holds, the better you understand that Sir Durward was far more than a sports hero. He was a national icon, the father figure for a nation eager to find a symbol of all that is good.  
For the record, Sir Durward was the oldest Olympian alive after the death last year of Hungarian Sandor Tarics, at the age of 102. His death came as the 2018 Winter Olympics was drawing to a close, 62 years after he competed for the first time, in 1956 winning bronze in Star class sailing in Melbourne, Australia, with Sloane Farrington as crew. But to most Bahamians, it was the 1964 Olympics that mattered – the first Gold medal The Bahamas ever won, and it was won by Sir Durward and crew Cecil Cooke who grew up in local waters and made history in Tokyo, half a world away.
Durward became a phenomenon in the world of sailing where the Star is among the most demanding of all single design high performance boats requiring strength, instantaneous reflex action, fierce competitiveness and strategy to deal with wind, tides, currents and competitors on the course.
So respected was he that a major tabloid interviewed him for a story on his tips for staying young and healthy as he headed to the 1972 Olympics at age 70. Even then he showed the humour that endeared him to all of us his entire life. His guidelines, he said, are easy, "I've never been to a gym in my life. You won't catch me running and you'll never see me pass up a piece of cake for dessert."
Sir Durward did not need a gym. The work he did every day was more than most do in a year, climbing from tug to cruise ship high above, often as waves were crashing, knocking the pilot boat into the ship, Durward hanging on for dear life, boarding and steering vessels into the harbour in every kind of weather.
The ships had to dock and it was the Sea Wolf, Nassau's number one harbour pilot, who knew how to handle them. He began piloting along with his dad as a teen straight out of school and he kept doing it, climbing those rungs and jumping aboard well into his 80s. He earned good money and put it to good use.
Sir Durward's generosity touched nearly every facet of Bahamian life. His commitment to his alma mater Queen's College is unrivalled, his support of the physically disabled unmatched. He even supported bins and the creation of Junior Pride clubs in schools as part of the Bahamas Beautiful Challenge. He served on the board of Safe Bahamas and his dedication to Rotary and the Rotary Club of East Nassau was legendary. Upon his death, Sir Durward was also the second oldest active Rotarian of 1.2 million Rotarians worldwide.
But he did not just give money. He gave of himself. When cerebral palsy victim and self-taught author Michael Wells received his first wheelchair, Sir Durward was there to help assemble it and take Michael for his first ride. It was Sir Durward and the late Robert 'Bobby' Symonette who founded BASRA and the board seats Sir Durward held would fill a classroom. Everyone wanted him to be a part of whatever they felt was important because they knew the value of his honesty, integrity, compassion and forthrightness.
There was so much about this man who always told you what was on his mind but never spent words bragging about himself. His humour and his humility, his quick grasp of seeing what needed to be done and doing it earned him as much respect as the medals and trophies that lined the counters in the plain office he occupied for decades above a fuel station on East Bay Street.  
It was there that he endorsed the concept of the Lucayan Sea, discussing it with Commander Tellis Bethel of the Royal Bahamas Defence Force who, like Sir Durward, knew these waters intimately and believed they deserved an identity. Sir Durward wholeheartedly endorsed the idea and it was one of two pieces of unfinished business left to us to achieve.
The other is One Bahamas, first proposed in 1992 by Algernon Allen. That idea appealed to Sir Durward, a man who never saw colour. To him, race was what you did on the water, not what you considered when choosing friends. One of his closest was Sir Orville Turnquest, two men who grew up under the British flag and transitioned easily when The Bahamas gained independence in 1973, believing that if there was just One Bahamas, the country could succeed at anything. Together, they worked annually for events that would bring everyone together and Sir Durward was still supporting the concept as he neared 100 when the last One Bahamas walk was held in November. The wind was blowing, it was chilly and damp but at 6am Sir Durward held court in a golf cart provided for him and the one woman he loved all his life, Hollie, his next door neighbour as a young man, the woman who he would remain married to for 70 years, and the mother of his three children, Jill, Charlotte and Randy.
Tributes to Sir Durward will continue to pour in. We chose this simple one from fellow sailor and record holder, three-time world champion in the Sunfish-class Donnie Martinborough, who always considered the Sea Wolf his hero. He wrote this to Sir Durward on his 100th birthday:  
A man who always knows the right course to steer
A winner on the water, and in the hearts of Bahamians
Congratulations on rounding the 100-year mark  
& being an invaluable, immeasurable part of Bahamian history
The true meaning of championship.