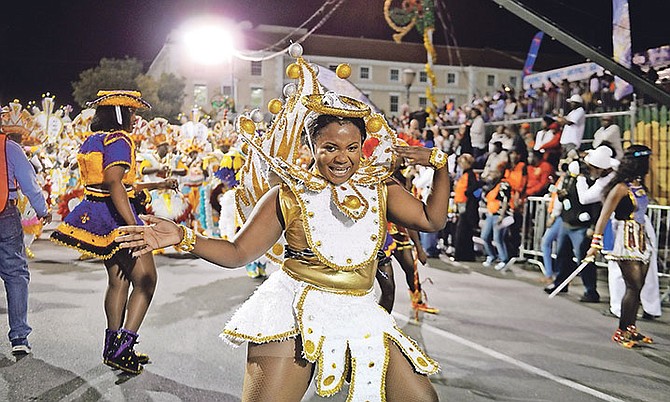 By RICARDO WELLS
Tribune Staff Reporter
rwells@tribunemedia.net
THE Ministry of Youth, Sports and Culture's proposed Junkanoo conclave could lead to major changes for the holiday Junkanoo circuit, following low attendance at the 2018 New Year's Day Parade.
Minister of Youth, Sports and Culture Michael Pintard said yesterday – while reflecting on the issues that marred last week's Boxing Day parade and the abundance of empty seats at Monday's event – there was a need for "several serious conversations" on the overall state of Junkanoo.
Speaking to The Tribune in Rawson Square, Mr Pintard said the conclave, planned for later this month, will centre on ways to improve future parades, ranging from locations and time, to bleacher arrangements and the construction of multi-purpose Junkanoo shacks.
"While there is a lot to be proud of coming from our two major parades, there is still a lot that we need to discuss and in some cases make changes," Mr Pintard said.
"To that end, we will be meeting with the JCNP (Junkanoo Corporation of New Providence) and the NJC (National Junkanoo Committee) to have a discussion about structuring what will be the largest and well-equipped conclave relative to Junkanoo.
"When we look at the position we were left (in) after the postponement of the Boxing Day parade - with respect to the downtown area - there could be some things we can toy with when it comes to location as to avoid circumstances like the one we faced last week.
"There is a similar discussion needed to be had on the nature of Junkanoo and one on the way we position the crowd. Maybe there are better options on both fronts. None of this is final, but rather things I've toyed with in my mind and plan to present when we meet.
"These are the sorts of ideas that we are going to have to look at and nothing is off of the table here and all ideas are welcome," Mr Pintard said.
"We are looking to expand on what we consider Junkanoo to be, historically. We need to take a look at the financial components, how much is spent, what is being made and how we are generating jobs. Junkanoo is an industry and we plan to look at it like that. The results of these two parades will lead us into that discussion and I look forward to what comes out of it."
The crowd size of Monday's parade paled in comparison with that of last week's parade and the 2017 New Year's Day Parade.
Silbert Ferguson, president of the JCNP, said ticket sales for the parade were around 65 percent.
Noting New Year's Day parades are always the hardest to promote and sell, Mr Ferguson admitted Monday's turnout was the lowest in recent years.
Pointing to the many options that attendees face, combined with the high-cost of the parade, Mr Ferguson said there continues to be many obstacles to overcome to make the New Year's Day parade successful.
This comes in the wake of the hiccups which caused the delay of last week's Boxing Day parade. This prompted Prime Minister Dr Hubert Minnis to meet Junkanoo leaders at his office to express his "pain and disappointment" at the one day postponement of the cultural event.
Mr Pintard added: "The plan here isn't to come in and promote drastic changes, but rather finding creative ways to fix the flaws."
Asked for his view on how well Monday's parade was executed from a performance standpoint, Mr Pintard called the overall experience at Monday parade "wonderful".
"Away from (a) broader spectrum, a closer look at this parade, when we view it in of itself, we will see that this was a wonderful experience," he said. "The groups, I am presently surprised at the level of detail despite them having had to prepare for so many months for two full parades, it is a very difficult feat to pull off, but the groups have been effective.
"In terms of the parade, I am very pleased. We had complications before, because one of the major groups did not have its banner in place in the previous parade. The group leaders have worked quite diligently to make sure that at call time all aspects of their groups were in place; so it has been much easier to coordinate.
"What we see here this morning from these groups, when we consider performance and participation, this is what we expect and applaud. Groups are in place. Groups are ready to go. There is order at the gate, on the route and from what I understand, in the bleachers.
"These are the kinds of parades we can expect going forward over the next few years. In fact, I dare to say, I can only see it getting better."